The Burning of the Valleys: Daring Raids from Canada Against the New York Frontier in the Fall of 1780 (Paperback)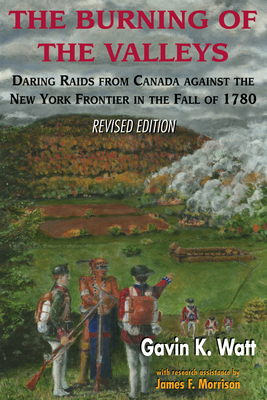 $32.99

Available in our Warehouse: Usually Ships in 3-8 Days
Description
---
In the fifth year of the War of Independence, while the Americans focused on the British thrust against the Carolinas, the Canadian Department waged a decisive campaign against the northern frontier of New York. Their primary target was the Mohawk River region, known to be the grainbowl that fed Washington's armies. The Burning of the Valleys details the actions of both sides in this exciting and incredibly effective British campaign.
General Frederick Haldimand of Canada possessed a potent force, formed by the deadly alliance of toughened, embittered Tories, who had abandoned their families and farms in New York and Pennsylvania to join the King's Provincial regiments in Canada, and the enraged Six Nations Iroquois, whose towns and farmlands had been utterly devastated by Continentals in 1779. The Governor augmented this highly motivated force with British and German regulars and Canadian Iroquois.
In October, without benefit of modern transportation, communications or navigational aids, four coordinated raids, each thoroughly examined in this book, penetrated deeply into American territory. The raiders fought skirmishes and battles, took hundreds of prisoners, burned forts, farms, and mills and destroyed one of the finest grain harvests in living memory.
About the Author
---
Gavin K. Watt is president of the Museum of Applied Military History, a Canadian federation of some 450 volunteer historical animators, but he is perhaps best known as a founder and commanding officer of the recreated King's Royal Yorkers. In 1984, Gavin republished Ernest Cruikshank's King's Royal Regiment of New York, to which he added a Master Muster Roll of over 1600 men, most of whom were founders of the province of Ontario after the regiment's disbandment.