One Day I Will Write About This Place: A Memoir (Hardcover)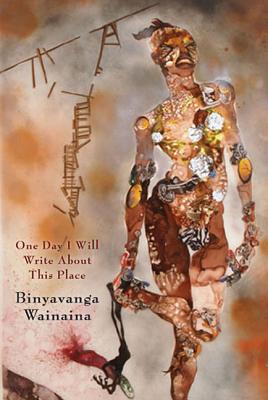 $24.00
This item is not currently available to order.
Description
---
*A New York Times Notable Book*
*A New York Times Book Review Editors' Choice*
*A Publishers Weekly Top Ten Book of the Year*
Binyavanga Wainaina tumbled through his middle-class Kenyan childhood out of kilter with the world around him. This world came to him as a chaos of loud and colorful sounds: the hair dryers at his mother's beauty parlor, black mamba bicycle bells, mechanics in Nairobi, the music of Michael Jackson—all punctuated by the infectious laughter of his brother and sister, Jimmy and Ciru. He could fall in with their patterns, but it would take him a while to carve out his own.
In this vivid and compelling debut memoir, Wainaina takes us through his school days, his mother's religious period, his failed attempt to study in South Africa as a computer programmer, a moving family reunion in Uganda, and his travels around Kenya. The landscape in front of him always claims his main attention, but he also evokes the shifting political scene that unsettles his views on family, tribe, and nationhood.
Throughout, reading is his refuge and his solace. And when, in 2002, a writing prize comes through, the door is opened for him to pursue the career that perhaps had been beckoning all along. A series of fascinating international reporting assignments follow. Finally he circles back to a Kenya in the throes of postelection violence and finds he is not the only one questioning the old certainties.
Resolutely avoiding stereotype and cliché, Wainaina paints every scene in One Day I Will Write About This Place with a highly distinctive and hugely memorable brush.
About the Author
---
Binyavanga Wainaina is the founding editor of Kwani?, a leading African literary magazine based in Kenya. He won the 2002 Caine Prize for African Writing, and has written for Vanity Fair, Virginia Quarterly, Granta, and The New York Times. Wainaina directs the Chinua Achebe Center for African Writers and Artists at Bard College.
Praise For…
---
"Harried reader, I'll save you precious time: skip this review and head directly to the bookstore for Binyavanga Wainaina's stand-up-and-cheer coming-of-age memoir, One Day I Will Write About This Place. Although written by an East African and set in East and Southern Africa, Wainaina's book is not just for Afrophiles or lovers of postcolonial literature. This is a book for anyone who still finds the nourishment of a well-written tale preferable to the empty-calorie jolt of a celebrity confessional or Swedish mystery." —Alexandra Fuller, The New York Times Book Review
"[An] astonishing, dreamy memoir. . . . Words quickly become [Wainaina's] life, especially as he grows up to become one of Africa's intellectual leaders, but never does he lose that magical, deeply felt sense of language. And as his readers, neither do we." —Oprah.com, Summer Reading List
"One of Kenya's young literary stars." —Vanity Fair
"Glimmering, strobe-lit language . . . [One Day I Will Write About This Place] reveal[s] a complex, cosmopolitan African experience too rarely depicted in books." —Teju Cole, GQ, "Book of the Year Club"
"Language is clearly the author's preferred mode of structuring the world, but it is also the plaything he uses with idiosyncratic grace and brilliant immediacy to capture 'the scattered, shifting sensations' of memories and emotions long past." —Kirkus Reviews, from their "BEA Big Books" issue
"Wainaina paints pictures with words; his writing is reflective and playful and worth lingering over. . . . The Africa evoked is captivating and will be exotic and new to many readers. Wainaina's memoir is by turns funny, sad, hopeful and occasionally cynical, but always engaging. Fanciful abstractions of his environment and instructive tales of African politics combine to give us a fascinating vision of his world." —Shelf Awareness
"From an early age, Wainaina's outlook on the world around him was characterized by his vivid imagination, from his vision of the suns rays poking through the grass as 'a thousand tiny suns' to the 'hot snails of thick feeling' that suffuse his body during a hot bath. Throughout it all, he is keenly in tune with those who are outsiders, particularly his mother, a Ugandan who is the subject of xenophobic attacks from her neighbors." —The New Republic
"This self-portrait of the artist as a young African man is the story of an outsider coming into his own, but it's Wainaina's capacity for language that sets it apart. Growing up in a place where people use many tongues--Kiswahili, English, Kikuyu and dozens of others--interchangeably serves him well in weaving together lyrical, impressionistic scenes from his past. More than just pretty prose, however, ODIWWATP does justice to the complex place that's much more than the sum of tidy facts unenlightened Westerners may know about it." —Time Out New York
"A narrative with its own galloping rhythm. . . . Wainaina is driven by a need to absorb the experiences of those around him and then express them in his unique style, and he is at his best when he is face-to-face with his subject. The result is a rich and vivid depiction of the author's life and a joy to read." —New Pages
"[A] very good, if not remarkable, book. If you are a Western reader it will remind you of two things: 1) Nothing you have ever heard of before; and 2) Dylan Thomas when writing about his own childhood. The language is similarly startling and luminous. . . . This book is important because it brings us news from a part of Kenya seldom heard from. And it brings us a new voice, one that is anthropomorphic, poetic and pointed." —Star Tribune (Minneapolis)