Lessons on Expulsion: Poems (Paperback)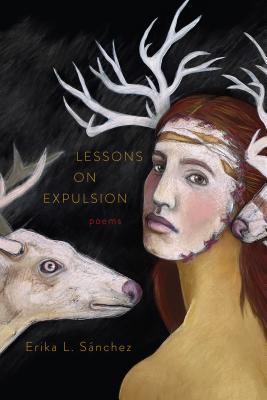 $17.60
This item is not currently available to order.
Description
---
An award-winning and hard-hitting new voice in contemporary American poetry

The first time I ever came the light was weak and carnivorous.

I covered my eyes and the night cleared its dumb throat.

I heard my mother wringing her hands the next morning.

Of course I put my underwear on backwards, of course the elastic didn't work.

What I wanted most at that moment was a sandwich.

But I just nursed on this leather whip.

I just splattered my sheets with my sadness.

—from "Poem of My Humiliations"
"What is life but a cross / over rotten water?" Poet, novelist, and essayist Erika L. Sánchez's powerful debut poetry collection explores what it means to live on both sides of the border—the border between countries, languages, despair and possibility, and the living and the dead. Sánchez tells her own story as the daughter of undocumented Mexican immigrants and as part of a family steeped in faith, work, grief, and expectations. The poems confront sex, shame, race, and an America roiling with xenophobia, violence, and laws of suspicion and suppression. With candor and urgency, and with the unblinking eyes of a journalist, Sánchez roves from the individual life into the lives of sex workers, narco-traffickers, factory laborers, artists, and lovers. What emerges is a powerful, multifaceted portrait of survival. Lessons on Expulsion is the first book by a vibrant, essential new writer now breaking into the national literary landscape.
About the Author
---
Erika L. Sánchez has won a "Discovery"/Boston Review Poetry Prize and a Ruth Lilly and Dorothy Sargent Rosenberg Poetry Fellowship from the Poetry Foundation. Her debut novel is forthcoming from Knopf Books for Young Readers. She lives in Chicago.
Praise For…
---
"Lush and formidable."—The New York Times Book Review
"[A] fierce, assertive debut."—The Washington Post
"In lusty verse that startles and caresses, the author—whose parents traveled from Mexico to raise her in Illinois—vivifies the complexities of the immigrant experience."—O, the Oprah Magazine
"Skillful and striking. One of my new favorite poetry collections, Lessons on Expulsion is a beautiful debut work of history, womanhood and love."—Ms. Magazine
"Lessons on Expulsion combines stories of immigration with those of sexual empowerment against a backdrop of surrealist and
folkloric dreamscapes. . . . Dynamic poems."—St. Louis Post-Dispatch
"Every line is astonishment. Each poem, a climactic moment. . . . She makes emotional connections magnetizing the body to words that reverb with sensuality. Every line can be seen, tasted, heard. . . . From the dark, this diamond is Sánchez's debut book."—Washington Independent Review of Books
"This is a collection that outlasts its final page, that feeds us endless questions to ponder, that makes us want more."—The Millions
"Lessons on Expulsion does brilliant work blending one sensory experience with another . . . such that the eye and ear never feel far apart. . . . In this intensely visceral debut, Sánchez paints a compelling picture of the human experience, at once cruel and full of tenderness."—Guernica
"An impressive array of tautly constructed poems."—Vol. 1 Brooklyn
"Sensuality, self-doubt, poverty, joy and despair—the poems of Sánchez's Lessons on Expulsion frankly and memorably touch them all."—Shelf Awareness, starred review
"With lushness of phrase and dynamic displays of body and joy and despair and hurt, Sánchez's debut collection strikes like human thunder, the air burnt in the reader's lungs."—Frontier Poetry
"Sánchez's poems are spells that hide their intentions until their work is done, leaving the reader transformed."—San Diego City Beat
"Lessons on Expulsion was written from the gut, from the horrors and ecstasies of the female body, this remarkable collection pulses with raw experience."—Fork and Page
"Vibrant and superbly written. . . . [Lessons on Expulsion] offers an exploration of what it is to live, love, and suffer on this Earth. . . . Not to be missed."—Library Journal, starred review
"Sánchez negotiates an imaginative space between oral history and journalistic reportage. . . . Sánchez is as capable of intriguingly surrealist gestures . . . as of photographic depictions. . . . Throughout, a sense of menace pervades all the joyfully vivid detail."—Publishers Weekly
"[A] compelling debut. . . . Sánchez minces no words in challenging accepted notions of femininity, race, religion, and sexuality."—Booklist
"A rare one with phosphorescent night-powers & deep-fire mind tools, Erika L. Sánchez—here's her ground-crackling first poetry volume. A prize-eater."—Juan Felipe Herrera, US Poet Laureate
"Lessons on Expulsion marks the arrival of a vital new voice in American poetry. With penetrating intelligence and lyrical precision, Erika L. Sánchez makes visible the violence striking down Mexican women living on the border and interrogates the historical and the familial origins of misogyny. Her deft braiding of the beautiful and the grotesque infuses her language with a shimmering rawness and a startling immediacy. Her gaze is unflinching and feminist; it marvels and questions and testifies. Lessons on Expulsion is an uncompromising and singular debut."—Eduardo C. Corral
"Erika L. Sánchez writes with persistent care. . . . Reading Sánchez's poems is like watching the world from a train, the exquisite rhythmic blend of the known and the unknown. The world remains always more than we can understand, yet suddenly, thanks to her great poetry, we are pierced by what we know."—Eileen Myles