How to Rap: The Art and Science of the Hip-Hop MC (Paperback)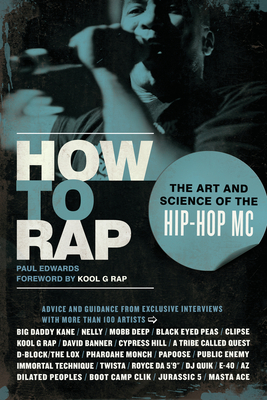 $14.99

Available in our Warehouse: Usually Ships in 3-8 Days
Description
---
Clipse, Cypress Hill, Nelly, Public Enemy, Remy Ma, Schoolly D, A Tribe Called Quest, will.i.am—these are just some of the acclaimed artists offering tips and advice in this compelling how-to. Delivering countless candid and exclusive first-person insights from interviews with more than one hundred of the most innovative artists, author Paul Edwards examines the dynamics of rap from every region and in every form--mainstream and underground, current and classic—and covers everything from content and flow to rhythm and delivery. A first-of-its-kind guide, How to Rap provides a wealth of insight and rapping lore that will benefit beginners and pros alike.
About the Author
---
Paul Edwards holds a master's degree in postmodernism, literature, and contemporary culture from University of London and has done extensive research on rappers and their creative processes, musical theories, and lyrics.
Kool G Rap is one of the most influential MCs of all time, with Eminem, Jay-Z, Big Pun, R.A. the Rugged Man, and many others citing him among their influences. Frequently on "greatest MCs of all time" lists, he has appeared on tracks with numerous artists, including Eminem, Nas, AZ, Mobb Deep, Busta Rhymes, Big L, Ghostface Killah, and Canibus.
Praise For…
---
"How useful, amid the rain-forest-worrying deluge of books written on hip-hop theory and culture, that Paul Edwards has taken a straightforward, reasoned and informed approach to discussing the actual mechanics of rapping. How To Rap looks at that art form by unknotting its components--content, style, delivery and, most intriguingly, its spatial alliance with music and beats--and uses practical examples for context and analysis. Aspiring MCs will benefit most, but there are insights and observations that will appeal to anyone with an interest in hip-hop's development."  —Alex Ogg, author, The Hip Hop Years, The Men Behind Def Jam, Rap Lyrics


"A clever breakdown of the art form of hip-hop rhymes, for anyone who is into the art of incredible raps. It's about time someone actually recognized this powerful music for its artistic ingenuity."  —Speech, Arrested Development


 "A complete guide to the art and craft of the MC, anyone who's serious about becoming a rapper should read this first. Proof positive that rap is more than just talking over music - a vital and vibrant expose of a much misunderstood art form."  —Hip-Hop Connection


"If only this book had existed back in the day, I might not have become a university professor. For now, though, I'll have to settle for hanging out with my academic pals Eazy A, Chuck Ph.D., and Dr. GRE--and curling up with a copy of How To Rap. Watch out world, this crazy ass-prof [associate professor] is coming straight outta college."  —Kembrew McLeod, professor, critic (Rolling Stone, The Village Voice, Spin, Mojo), author (Freedom of Expression®), documentary filmmaker

"Want to be a true emcee? Then pick up this book before picking up a microphone. Never before has the artform been broken down so well."  —dubcnn.com  (no. 1 news and interview site for West Coast hip-hop, including regular interviews with major rappers such as Snoop Dogg and Ice Cube)

"Paul Edwards's new book How to Rap brings a fresh approach to hip-hop lyricism that's remarkable for its depth of practical detail.  What's in a namecheck? What are the pros and cons of certain metrical or rhetorical forms?  What are the most common structures in hip-hop's history? With numerous examples and analyses of the hip-hop greats of the past, Edwards offers both an immensely practical introduction for would-be rappers, as well as the first detailed poetics of 'the pulse of the rhyme flow' in hip-hop. This is a foundational text."  —Russell Potter, Ph.D., author of Spectacular Vernaculars

"How to Rap is an excellent, revealing read on the insights to the technical workings of rap music. I had no idea what I did was so scientific and complicated or the literary value of it. As a scholar and an educator, I highly recommend this book to any rap fans or people interested in the technical aspects of music and poetry."  —Mighty Casey, popular underground rapper

"A must-have guide for anyone who ever wanted to understand the blood, sweat, and tears that can go into the art of MCing. The book lets those in the dark understand the craft of MCing as close as possible."  —DJ Rasta Root, Smokin' Needles Records (DJs and produces for the likes of A Tribe Called Quest's Phife Dawg, with whom he runs Smokin' Needles Records)