Gregorian Anthology: Gregorian Chant (CD-Audio)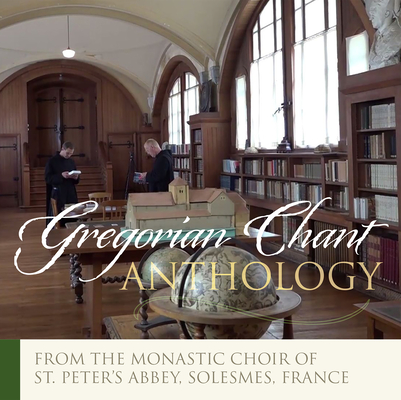 $18.99
This item is not currently available to order.
Description
---
This anthology is of great interest as the contents are in liturgical order, following the principal seasons (Christmas, Holy Week, Easter, and Marian Feasts) representing the entire liturgical year. The beautiful Gregorian chant illumunates the liturgical texts, inviting the listener to contemplate the life of Christ and the foundation of the church.

This overview will provide more enjoyment for the experienced listener while making a splendid introduction to the beauty of Gregorian chant for the novice. Throughout the anthology the unique interpretive insights that are the hallmark of Solesmes' recordings are carefully preserved.

     Track 1-Christmas:Introit     Puer
     Track 2-Christmas     Ambrosian Gloria
     Track 3-Christmas:Communion     In splendoriubus
     Track 4-Christmas:Hymn     Christe redemptory
     Track 5-Christmas:Trope     Ecce nomen Domini
     Track 6-Maundy Thursday:Introit     Nos autem
     Track 7-Maundy Thursday:Responsory     Christus factus
     Track 8-Maundy Thursday:Offertory     Ubi caritas
     Track 9-Maundy Thursday: Hymn     Pange lingua
     Track 10-Good Friday:Responsory     Tenebrae
     Track 11-Good Friday:Hymn     Vexilla regis
     Track 12-Holy Saturday:Responsory     Ecce quomodo
     Track 13-Easter:Responsory     Christus resurgens
     Track 14-Easter:Gradual     Haec dies
     Track 15-Easter:Alleluia     Pascha nostrum
     Track 16-Easter:Sequence     Victimae paschali
     Track 17-Easter:Hymn     Ad coenam
     Track 18-Easter:Rhythm     Exsultemus
     Track 19-Easter:Sequence     Salve dies
     Track 20-Our Lady:Introit     Salve sancta Parens
     Track 21-Our Lady:Kyrie IX
     Track 22-Our Lady:Gradual     Benedicta
     Track 23-Our Lady:Offertory     Recordare
     Track 24-Our Lady:Antiphon     Regina caeli
     Track 25-Hymn     Te Deum
     Track 26-The bells of Solesmes
 
About the Author
---
Since the re-founding of the Abbey of St. Peter of Solesmes in 1833 under Dom Prosper Gueranger, this Benedictine monastery on the River Sarthe in western France has set the world standard both for the performance of Gregorian chant and the authenticity of the music itself. Commissioned by Pope Pius X to research the role of chant in liturgy and to edit books on chant that reflect this research, Solesmes enjoys an enviable reputation. Its work in liturgical reform and in the current revival of Gregorian chant has been likened to that of the great abbey of Cluny in the Middle Ages. These recordings incorporate new understandings of ancient manuscripts and represent a distillation of nearly 200 years of scholarship in the chant: musical paleography, semiology, and modality. The groundbreaking work by the monks of Solesmes has contributed to today's resurgence of interest in Gregorian chant as the foundation of Western music.
Praise For…
---
"For enthusiasts of Gregorian Chant, Solesmes remains the centre and the model. Crowds flock to hear this authentic sound of the Church on ordinary weekdays as well as at high festivals. This souvenir record presents many of the most famous chants of the liturgical year, starting with Christmas and moving through Holy Week to Easter, ending with a section of Marian pieces and the ancient hymn Te Deum, which used to be sung on every solemn occasion for rejoicing. The very sound of each of these pieces recalls the feast and all that it represents.
The sound is also the unmistakable sound of Solesmes, with its strong arching phrases gently caressed at their highest peak. The choice of repertoire includes two of the finest great Holy Week responsories: Tenebrae factae sunt and Christus resurgens. We also hear the monastic version of Ubi Caritas, uncharacteristically, maybe, for the ordinary church-goer, who is likely to be more familiar with the Vatican melody Ð that is, of course, if he or she is still able to find a church that sings and values our great western liturgical tradition!
Dom Jean Claire adopts a good steady tempo and gives very few nods in the direction of semiology, through there is some attempt at repercussion, something which can really only be achieved by solo cantors. This disc is a must for any collector of chant recordings; many choirs have made their own contributions by way of chant anthologies: Solesmes above all deserves to be listened to with respect."
Dr. Mary Berry, CBE, Musicologist, Founder of Schola Gregoriana of Cambridge
"This anthology had gathered together some of the greatest gems of the Gregorian repertory and ordered them according to their liturgical order in the principle seasons and themes of the church year. They are sung with great vitality and a deep feeling for the religious meaning of the texts. Through their voices these chants become a truly inspired proclamation of Christian faith."
Fr. Columba Kelly, OSB, St. Meinrad Archabbey
"This album is an invaluable study aid, but some listeners may want it just for musical pleasure." The American Organist