Aaron Copland & Virgil Thomson (CD-Audio)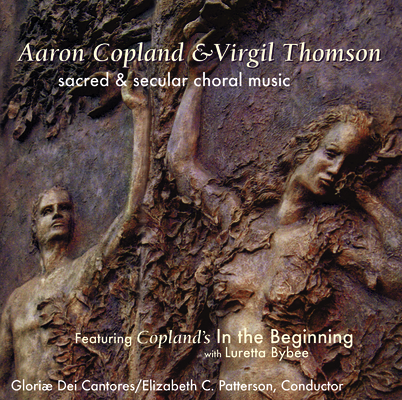 $16.99
This item is not currently available to order.
Description
---
Celebrating the centenary of Aaron Copland's birth, gloriae Dei Cantores presents a broad spectrum of choral music by Aaron Copland and Virgil Thomson. These two musical giants exemplified the ideals of American culture and established a truly American style for music. The centerpiece for this recording is the first American recording in many years of Copland's choral masterpiece In the Beginning, featuring American mezzo-soprano Luretta Bybee. Also included are Thomson's beloved Four Southern Hymns and some of his fascinating early works written during his sojourn in Paris, and a selection of vibrant choral arrangements of Copland's Old American Songs.

About the Author
---
Gloriae Dei Cantores (Singers to the Glory of God) holds a passionate dedication to the faithful representation of spiritual and musical authenticity in the choral arts. Sharing its vision of inspiration and hope, the choir has touched the hearts of audiences in twenty-four countries in Europe and Asia, as well as extensive tours and concert series in the United States. The choir's catalog of more than fifty recordings showcases an expansive repertoire, encompassing both masterworks and rarely performed musical treasures from Gregorian chant to the twenty-first century. Richard K. Pugsley and Gloriae Dei Cantores have garnered high praise for bringing lesser- known, yet fully deserving composers and their works to light. The choir makes its home at the Church of the Transfiguration in Orleans, Massachusetts, where it sings worship services throughout the year.
Praise For…
---
"Elizabeth Patterson and her Gloriae Dei Cantores continue to produce recordings featuring interesting, often neglected repertoire performed with great style and polish. The Copland pieces that open the program have been well served on CD, although the American Songs are better known in their solo versions than in their choral arrangements. On the other hand, Virgil Thomson's vocal music remains largely underperformed and underappreciated, and the pieces on this disc are most welcome. The range of Thomson's choral writing is nicely demonstrated by the contrast of the direct, unmistakably American sound of the Hymns from the Old South with the terse, dissonant minimalism of the Mass for Two-Part Chorus and Percussion from 1934. The latter, a consistently imaginative piece for women's voices, could have been written yesterday. It is brief- the Agnus Dei lasts barely over a minute but it contains many striking moments, including a surprisingly simple and original setting of the words 'Et homo factus est' and a brilliantly calculated emphasis on the final 'donanobispacem.'
Patterson is a fine conductor- the motets and the hymns in particular flow effortlessly and the choir is beautifully prepared. They have excellent diction, good intonation, and an attractive, versatile sound. Despite its difficulties, In the Beginning is sung with enthusiasm and confidence. Mezzo-soprano Luretta Bybee...delivers the text in a largely straightforward and communicative manner. Still, it is the Thomson pieces that stand out here, and one would hope that Patterson and her talented singers might give us more."
Fanfare 
"...excellent Gloriae Dei Cantores...faithfully deliver the music with enthusiasm and solid technique." Classics Today  
"A good, solid release...Best of all are the Hymns from the Old South, wihich are elegant but never lose their bright simplicity. Green Fields may be the loveliest hymn I've ever heard." American Record Guide 
"Copland's unaccompanied In the Beginning is a glorious work of notorious difficulty, and it receives an excellent performance from the Gloriae Dei Cantores with mezzo-soprano Luretta Bybee. Balance between soloist and chorus is very fine, and intonation and diction are commendable." Journal of the Association of Anglican Musicians 
"Gloriae Dei Cantores, under Elizabeth Patterson, has issued, under the label of the same name, a beautiful collection containing Thomson's Hymns from the Old South and the best eleven-minute Mass for Two-part Chorus and Percussion I have heard. ...Copland's In the Beginning, based on the book of Genesis and so beautifully sung here." Crisis:  Politics, Culture and the Church