Appalachian Sketches: Featuring Mark O'Connor's "Let Us Move" (CD-Audio)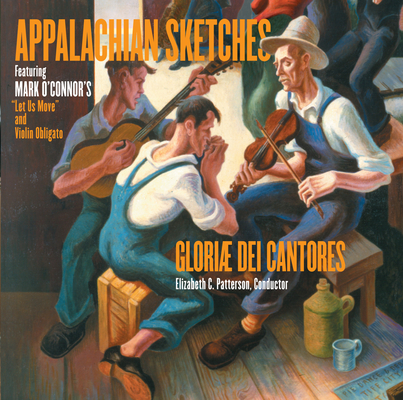 $16.99
This item is not currently available to order.
Description
---
Gloriae Dei Cantores, critically acclaimed for their interpretations of American music, present an exciting collaboration with Grammy Award-winner Mark O'Connor. Featured on this recording is a 15-minute commissioned work by O'Connor, Let Us Move, with violin obligato. Also featured are arrangements of beloved hymns and folk songs from Appalachia and the South. Exploding with energy and excitement, this must-have album presents a new American classical style of music, inspired by the rich American folk tradition.

"Nothing could have prepared me for the day I first heard this music sung back to me. . . . Gloriae Dei Cantores' voices sounded like angels descending from Heaven, delivering and rendering my music in a way that seemed to shake the rafters and elevate the spirit."—Mark O'Connor
About the Author
---
Gloriae Dei Cantores (Singers to the Glory of God) holds a passionate dedication to the faithful representation of spiritual and musical authenticity in the choral arts. Sharing its vision of inspiration and hope, the choir has touched the hearts of audiences in twenty-four countries in Europe and Asia, as well as extensive tours and concert series in the United States. The choir's catalog of more than fifty recordings showcases an expansive repertoire, encompassing both masterworks and rarely performed musical treasures from Gregorian chant to the twenty-first century. Richard K. Pugsley and Gloriae Dei Cantores have garnered high praise for bringing lesser- known, yet fully deserving composers and their works to light. The choir makes its home at the Church of the Transfiguration in Orleans, Massachusetts, where it sings worship services throughout the year.
Praise For…
---
"For many listeners, the chief interest of this recording will be the presence of popular fiddler/composer Mark O'Connor and the premiere of his piece Let Us Move, a 15-plus-minute work based on an original melody set to Charles Wesley's beloved hymn text, Hail the day that sees him rise, Alleluia!...It's presence on a program of authentic folk hymns and ballads from Appalachia including settings from original sources and arrangements by authorities such as John Jacob Niles and Alice Parker is seemingly justified by the text's long tradition in American church hymnals and because of O'Connor's current popularity for his Appalachia-themed instrumental works, themes continued here by O'Connor's insertion of his own improvisatory-style fiddling at various points throughout the piece.
...In many circles Let Us Move will be highly praised for its built-in energy, its frequently catchy rhythms and appealing melodic/harmonic effects and for the way it appears to cleverly combine elements of early American musical styles with more modern features...The rest of the program offers well-chosen examples of the repertoire promised by the disc's title and liner notes early American folk-hymns and arrangements, performed in Gloriae Dei Cantore's usual expert, technically assured, stylistically appropriate manner. This choir...has vast experience in performance of all sorts of repertoire, but director Elizabeth Patterson always is careful to honor the music's historical context and most importantly the words. And we hear every one, delivered with conviction and concern for balance among sections and overall ensemble blend...I highly recommend Gloriae Dei Cantores' performances, available on numerous recordings of this same label."
Classics Today    
In 
Appalachian Sketches
, one of America's finest choral groups, Gloriae Dei Cantores, turns their attention to a rarely heard set of pioneer American folk hymns. A highlight of the set is the premiere recording of 
Let Us Move
, featuring the well-known violinist Mark O'Connor. Here O'Connor continues to merge his formal virtuosity and training with his early love of traditional Appalachian folk music, and takes both in new directions. The result are both exhilarating and evocative, and one of the most successful and creative collaborations in recent memory. 
Charles K. Wolfe,  music historian
What a delight!...Ms. Patterson's group is just excellent lovely tone, immersion in the text, and understanding of the style. I loved hearing the sympathetic performances of the 
Eight Mountain Hymns
 as well as the better-known arrangements. And Mark O'Connor's composition is just lovely wonderful to hear the violin moving around, within, above the voices. It's very imaginative and appealing.
Melodious Accord