Unto Ages of Ages: Sacred Choral Music of Sviridov, Rachmaninoff, and Tchaikovsky (CD-Audio)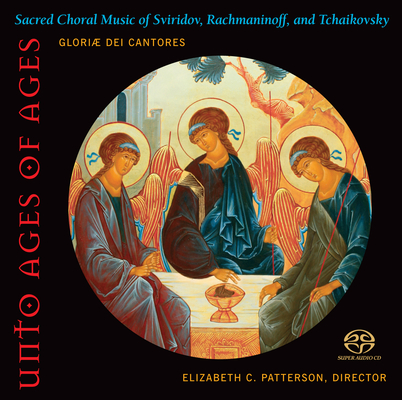 $18.99
This item is not currently available to order.
Description
---
Gloriæ Dei Cantores first recording in Super Audio CD featuring the North American recorded premiere of Georgy Sviridov's Ineffable Mystery, a gorgeous sacred choral suite. In his memory, the choir sang this set of pieces in Moscow and the Golden Ring on their third tour of Russia in 1998. Georgy Sviridov,who was one of Shostakovich's favorite students, wrote the music for Moscow's leading television news program and became one of the leading composers during the Soviet regime. His vocal music has been championed by Dmitri Hvorostovsky, the great Russian baritone. Gloriæ Dei Cantores, having already recorded "the best anthology of Russian music" (American Record Guide for Sacred Songs of Russia), now adds this rich collection of Russian sacred music to their discography. Also included are excerpts from the Tchaikovsky's Liturgy of St. John Chrysostom and the Rachmaninoff All-Night Vigil. These three composers and their works form a CD not to be missed by choral and Russian music fans.
About the Author
---
Gloriae Dei Cantores (Singers to the Glory of God) holds a passionate dedication to the faithful representation of spiritual and musical authenticity in the choral arts. Sharing its vision of inspiration and hope, the choir has touched the hearts of audiences in twenty-four countries in Europe and Asia, as well as extensive tours and concert series in the United States. The choir's catalog of more than fifty recordings showcases an expansive repertoire, encompassing both masterworks and rarely performed musical treasures from Gregorian chant to the twenty-first century. Richard K. Pugsley and Gloriae Dei Cantores have garnered high praise for bringing lesser- known, yet fully deserving composers and their works to light. The choir makes its home at the Church of the Transfiguration in Orleans, Massachusetts, where it sings worship services throughout the year.
Praise For…
---
"...the 40 voices of Gloriae Dei Cantores make a very good imitation of that special sound of orthodox choirs, with great intensity of tone colour and vibrant emotional expression. Indeed, the choir as a whole display remarkable depth of tone in their frequent very soft passages, but are also able to burst forth with a pure and ringing sound in the moments of joy and celebration. It is clear from their expressive and moving performance here [Sviridov] that they have a special connection with the work...the sound is very well placed in the acoustic with plenty of the essential atmosphere but preserving much clarity.  This splendid disc would make an ideal introduction to Russian Orthodox choral music for first-time listeners...There is no doubt of the fervent faith and commitment of the performers, which is convincingly transmitted by the high-definition recording."
 

"With performances as splendid as this, the Liturgy [Tchaikovsky] is likely to gain more of an audience in the West. The recording was made in the Church of the Transfiguration...and the gentle, warm reverberation seems perfectly suited to the program."
—Michael Cameron     Fanfare   

"One of the successes of the Gloriae Dei Cantores in the field of sacred music is not undue attention to ancient performance practices or other such scholarly pursuits, but instead a love of and commitment to the spirit of the music as reflected in the spiritual intent of the composer. Their ability to migrate from one genre to the other with nary a wink and a nod is something quite phenomenal in this day and age...this spacious and well-balanced Super Audio sound adds a dimension of projection and sonic splendor that only doubles the value of this already much-desirable disc. Highest recommendation!"
— Audiophile Audition    

"Director Patterson has apparently reinvented her choir for these performances, coaching her singers to produce the kinds of full-throated vibrato-heavy sonorities that you normally hear only from real Russian choirs. They sound uncannily authentic...this choir brings a degree of spiritual sincerity and power to their singing that few choirs, professional or amateur, can match. I was particularly impressed with their ability to deliver hushed pianissimos without losing the true Russian sound. Lovely recorded sound and an excellent booklet-on top of all else- make for an irresistible release. If you love Russian sacred music, just GET it."
—American Record Guide