Exhibiting Blackness: African Americans and the American Art Museum (Paperback)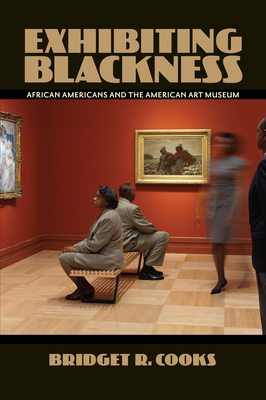 $41.78
This item is not currently available to order.
Description
---
In 1927, the Chicago Art Institute presented the first major museum exhibition of art by African Americans. Designed to demonstrate the artists' abilities and to promote racial equality, the exhibition also revealed the art world's anxieties about the participation of African Americans in the exclusive venue of art museums—places where blacks had historically been barred from visiting let alone exhibiting. Since then, America's major art museums have served as crucial locations for African Americans to protest against their exclusion and attest to their contributions in the visual arts.

In Exhibiting Blackness, art historian Bridget R. Cooks analyzes the curatorial strategies, challenges, and critical receptions of the most significant museum exhibitions of African American art. Tracing two dominant methodologies used to exhibit art by African Americans—an ethnographic approach that focuses more on artists than their art, and a recovery narrative aimed at correcting past omissions—Cooks exposes the issues involved in exhibiting cultural difference that continue to challenge art history, historiography, and American museum exhibition practices. By further examining the unequal and often contested relationship between African American artists, curators, and visitors, she provides insight into the complex role of art museums and their accountability to the cultures they represent.
About the Author
---
Bridget R. Cooks is associate professor of art history, African American studies, and visual studies at the University of California Irvine.
Praise For…
---
"An important and original contribution to the study of the history of American art museums and American culture. . . . Cooks not only demonstrates her thesis but also develops a useful perspective for studying the history of the deeply troubled relationship between African Americans and American art museums."—Alan Wallach, author of Exhibiting Contradiction: Essays on the Art Museum in the United States (University of Massachusetts Press)

"One of the pleasures of reading Exhibiting Blackness is that it holds previous curators and administrators to account, and invites a critical methodological approach that is refreshing in a field that tends to be overly cautious and conservative."—Jennifer A. González, author of Subject to Display: Reframing Race in Contemporary Installation Art

"In Professor Cooks' lengthy discussion of the many issues surrounding [the Harlem on My Mind art exhibit], she manages to touch on all the many issues facing black visual artists: Are they artists first, or black first? Should their work speak to what being black in a racist society means, or should it speak to more personal demons? And, most importantly, do these one-time exhibitions just give the white world a chance to say, look what we did for you in 1969, with no intention of having black artists shown again in the art institutions they control."—Fred Beauford, Neworld Review

"Exhibiting Blackness grants readers an understanding of the history of exhibitions of art by African Americans, but also of the cultural anxieties and misperceptions that have surrounded them. Recommended."—Choice

"Over the course of about 200 pages, Bridget R. Cooks lovingly and critically maps out a well-read course of African American art exhibitions in the 20th and early 21st century."—. . .might be good

"This book convincingly exposes the history of the contentious power relationship between African American artists and the mainstream art world that persists into the 21st century."—Journal of African American History