The Thingity-Jig (Hardcover)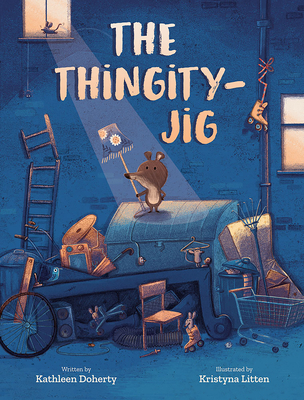 Staff Reviews
---
When Bear ventures out into the nighttime  forest, he spies an unusual item- a springy, bouncy, jump-on-it, play-on-it...thing...a...Thingity-Jig? But what IS it, exactly?? Bear is less concerned with what it is and more concerned with how he can haul it back home for his animal friends to play on. Thus begins Bear's epic search for the perfect method of Thingity-Jig transportation, which involves a whole series of (somewhat) scientific inventions. This wonderful and hilarious book is perfect for kids who love science, art, and wordplay. 
— Noelle
Description
---
This jovial frolic through the city and woods celebrates ingenuity and teems with whimsical wordplay--a delightful read for any STEAM storytime.
Under the light of a silvery moon, Bear wanders into people town and discovers a springy thing, a bouncy thing--a sit-on-it, jump-on-it thing This Thingity-Jig is too heavy to carry home by himself, so Bear runs back to the woods and asks for help. Too bad for Bear, his friends are sleepy and shoo him away. So Bear invents a Rolly-Rumpity to wheel the Thingity-Jig home, but then it all gets stuck in the mud How will Bear tackle this bump in the road? With a Lifty-Uppity, of course
Reading specialist and former educator Kathy Doherty perfectly blends inventive upcycling and STEAM elements with a delightful story in this wonderfully charismatic picture book. Illustrator Kristyna Litten brings the world to life with incredible settings and empathetic characters.
Teacher's guide and activities available
We appreciate your continued support!
If you would like to make a donation to help us through CLICK HERE.