Amish Quilt Patterns: 32 Pieced Patterns (Paperback)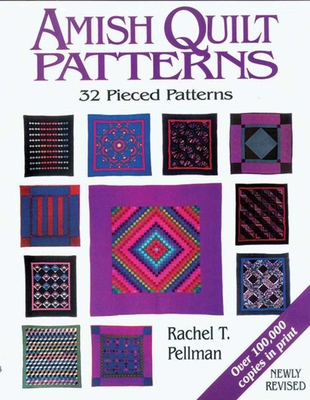 $16.45
This item is not currently available to order.
Description
---
          This reliable favorite is newly revised for greater usefulness! With 100,000 copies already in print, this new edition offers increased clarity of 30 popular and often-requested patterns. Here are the full-sized patterns themselves, as well as step-by-step instructions, color suggestions, and exact yardage measurements for creating the traditional charm of the Amish masterpieces. This manual also offers a selection of quilting templates in the actual sizes needed to make a full-size quilt. Detailed drawings and diagrams throughout the book lend accuracy to the whole satisfying process.           Amish Quilt Patterns is a companion to the gallery book, The World of Amish Quilts, which pictures more than 200 quilts, all in the rich color of the original masterpieces. The patterns and quilting templates offered in Amish Quilt Patterns have been selected from the quilts shown in The World of Amish Quilts. Quiltmakers will find color and piecing inspiration in that volume by seeing what early Amish quiltmakers created with the same patterns.
About the Author
---
Rachel Thomas Pellman designs quilt kits and lectures widely about quilts. She is the author or co-author of many well-known books about quilting. Among them are The World of Amish Quilts and its companion how-to book, Amish Quilt Patterns; A Treasury of Amish Quilts; Small Amish Quilt Pattens; A Tresury of Mennonite Quilts; and The Country Bride Quilt. Rachel and her husband, Kenny, are the parents of two adult sons and live near Lancaster, Pennsylvania.