Quiet and Peaceable Life: People's Place Book No.2 (Paperback)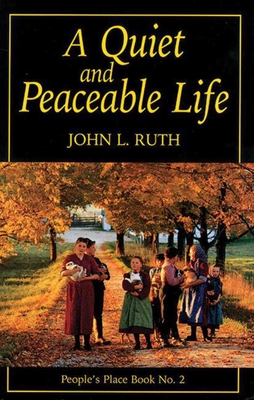 $7.65
This item is not currently available to order.
Description
---
          John L. Ruth, a Mennonite storyteller/historian, captures the spirit of Old Order Mennonite and Amish groups in his essays, along with photographs, poetry, and quotations. If the "plain people" of North America are to be understood in terms of their own concerns, we must consider sympathetically their own expressions and the biblical cadences they echo.           Having maintained, with the tolerance of their society, a simple life as "the quiet in the land," these folk still prize such passé virtues as modesty, humility, and obedience to God's will, as interpreted by a disciplined community of faith. Their values, difficult to appreciate in a world bemused by progress, are seldom if ever articulated, except as curiosities, in our mass media. --John L. Ruth, in A Quiet and Peaceable Life.
About the Author
---
John L. Ruth is known an loved as a storyteller and historian. Captured by the spirit and past of his people, he has spent years interpreting, writing about and filming the tradition and faith of Mennonite, Amish and Hutterite groups. Ruth grew up in the Franconia area of eastern Pennsylvania. An ordained Mennonite minister, he spent much of his life in the world of English, graduating from Eastern Baptist College (now Eastern College), St. Davids, Pennsylvania, an dcopleting doctoral work in Englishand American literture at Harvard University in 1968. For 12 years he taught literature at Eastern College an the University of Hamburg, Germany. He has been involved with the production of films on the Amish (The Amish: A People of Preservation) and Hutterites, Mennonites of Ontario and Virginia, pioneer schoolteacher Christopher Dock (The Quiet in the Land), and the city of Strasbourg, France (Stasbourg: City of Hope). His books include biography (Conrad Grebel, Son of Zurich), history ('Twas Seeding Time: A Mennonite View of the American Revolution; Maintaining the Right Fellowship: The Narrative Account of Life in the Oldes Mennonite Community in America; a forthcoming history of the Lancaster Mennonite Conference) and four lectures entitled Mennonite Identity and Literary Art. He has also written the texts for two musical works, Christopher Dock and Martyrs Mirror. He an Roma (Jacobs) are the parents of three grown children.