Introduction to Russian Mennonites: A Story Of Flights And Resettlements-- To Homelands In The Ukraine, The Chaco, T (Paperback)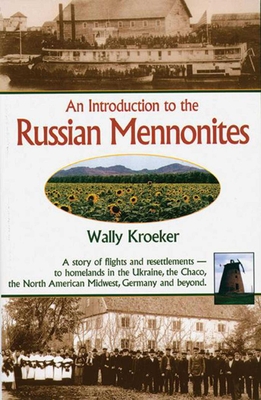 Description
---
          Mennonites in Russia? Invited by Catherine the Great to farm the Russian steppes -- in exchange for exemption from military service -- Mennonite emigrants from Polish Prussia and The Netherlands made their home in Russia. Some remain today; many more eventually left for North and South Americas and Europe. Nearly all retain memories and stories from that place -- unbelievable prosperity for some; unspeakable terror for many; church tensions; struggles between the landed and the landless; exquisite clockmaking, storytelling, musicmaking, and food.           Himself a Russian Mennonite, Kroeker heads into the history, but also the later movement of these people to the U.S. and Canada. Are they at all distinctive today? What has drawn some to the cities and professions, and others to the rural prairies? What about those in Europe, and those still in the former Soviet Union? Kroeker tells it all with vibrancy -- the overview and the memorable details. Includes dozens of historic and contemporary photographs.

Skyhorse Publishing, as well as our Arcade imprint, are proud to publish a broad range of books for readers interested in history--books about World War II, the Third Reich, Hitler and his henchmen, the JFK assassination, conspiracies, the American Civil War, the American Revolution, gladiators, Vikings, ancient Rome, medieval times, the old West, and much more. While not every title we publish becomes a New York Times bestseller or a national bestseller, we are committed to books on subjects that are sometimes overlooked and to authors whose work might not otherwise find a home.
About the Author
---
Wally Kroeker grew up in southern Manitoba with one foot on the farm and one in the city. He descends from two different streams of Russian Mennonites. His paternal ancestors emigrated from the Chortitza Colony, Russia, to southern Manitoba in 1876. His mother migrated as a child from the Molotschna Colony, Russia, in 1925. He has spent more than 35 years as a reporter and editor, specializing in business and religion. He began his career with the Regina (Saskatchewan) Leader-Post and later served as editor of the Saskatchewan Business Journal and as business writer and assistant city editor of the Winnipeg Tribune. He was assistant editor of Moody Monthly (Chicago) and for 10 years was editor of The Christian Leader, the magazine of the U.S. Mennonite Brethren Church. Since 1985 Kroeker has been director of publications for Mennonite Economic Development Associates (MEDA) and editor of its magazine, The Marketplace. His freelance articles have appeared in nearly a hundred business and religious publications. He is author of God's Week Has Seven Days (Herald) and co-author of Faith Dilemmas for Marketplace Christians (Herald). Kroeker studied journalism at Northwestern University in Chicago and completed his undergraduate degree in religious studies at Tabor College, Hillsboro, Kansas. He has a Master of Arts degree in theology from the Mennonite Brethren Biblical Seminary, Fresno, Calif. He and his wife Millie have two sons, Scott and Joel.