Passing on the Comfort: The War, The Quilts, And The Women Who Made A Difference (Paperback)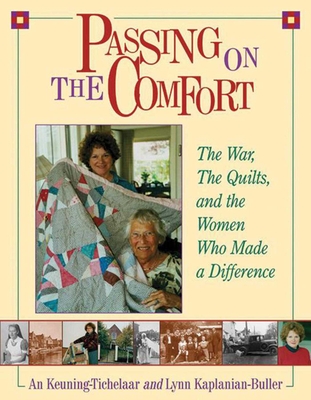 $16.45
This item is not currently available to order.
Description
---
          This is a story with many parts and pieces, quite scattered in the beginning. Amazingly, the many pieces have come together to form a design that none of us imagined at first. First there is An in Holland in the early 1940s, fighting to keep the War from taking over her young, promising life. Met with unspeakable horrors, she takes risks that would confound the bravest of souls. At the same time, groups of women across North America meet in sewing circles, making quilts—and then bundling them up and sending them off to do their part to give comfort and courage and respite during the War.           I, Lynn, come 20-some years later, showing up in Amsterdam in the early 1970s, a little rebellious and tired of another war. I didn't know An, and quilts were not something I ever made. But my grandmother and aunts, and other older women in my childhood church, did. And I knew an immigrant's longing for the textures of home. We have scattered images of 19 quilts, which eventually emerge near the heart of this story, throughout the book. These quilts drew An and me to each other. We'll put this story together a little like a quilt top—here a patch, there a patch, until the design emerges, startlingly cohesive. Terrible odds. Determined women. Quilts, well-worn from having been called into active duty.
About the Author
---
An Keuning-Tichelaar was born in 1922 in Makkum, a harborplace near Witmarsum, Friesland, the Netherlands. She stems from a very old, established family who are creators of the world-famous Royal Tichelaar Makkum ceramics. This book describes her life from 1922-1947, but this is not the end of her story. Married in 1944, she is the mother of three children. Her home, the parsonage, was always a haven for needy children, youth, and adults. She and her husband continue to answer the call "to be there," even now, after 60 years of marriage.