Mudbound (Hardcover)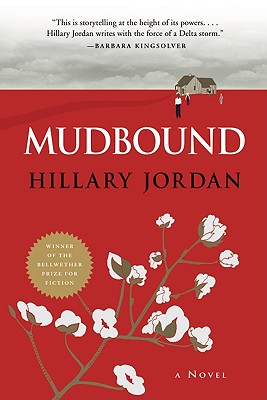 Email us for price & availability: info@oblongbooks.com
Fall '08/Winter '09 Reading Group List
---
"Mudbound is not just any Southern race novel; with six first person narratives, its strength and truth is unparalleled. Jordan's expert writing is unheard of for a first novelist and you will find yourself quickly swept up by her Mississippi Delta characters. Read this brilliant novel that has everyone buzzing about Hillary Jordan as a great new literary force."
— Suzanna Hermans, Oblong Books & Music, Rhinebeck, NY
Indie Next List Highlights 2008
---
"Rural Mississippi just after the Second World War is a hard and muddy place. Hillary Jordan's novel Mudbound evokes the era brilliantly -- returning soldiers trying to find their way after the brutality of the war, some facing the continuing brutality of a racist America. A very compelling story."
— Cathy Langer, Tattered Cover Bookstore, Denver, CO
Description
---
In Jordan's prize-winning debut, prejudice takes many forms, both subtle and brutal. It is 1946, and city-bred Laura McAllan is trying to raise her children on her husband's Mississippi Delta farm—a place she finds foreign and frightening. In the midst of the family's struggles, two young men return from the war to work the land. Jamie McAllan, Laura's brother-in-law, is everything her husband is not—charming, handsome, and haunted by his memories of combat. Ronsel Jackson, eldest son of the black sharecroppers who live on the McAllan farm, has come home with the shine of a war hero. But no matter his bravery in defense of his country, he is still considered less than a man in the Jim Crow South. It is the unlikely friendship of these brothers-in-arms that drives this powerful novel to its inexorable conclusion.

The men and women of each family relate their versions of events and we are drawn into their lives as they become players in a tragedy on the grandest scale. As Kingsolver says of Hillary Jordan, "Her characters walked straight out of 1940s Mississippi and into the part of my brain where sympathy and anger and love reside, leaving my heart racing. They are with me still."
About the Author
---
Hillary Jordan's first novel, Mudbound, was the winner of the 2006 Bellwether Prize for fiction and an Alex Award from the American Library Association. It was named the NAIBA Fiction Book of the Year and one of the Top Ten Debut Novels of the Decade by Paste magazine. Jordan grew up in Dallas, Texas, and Muskogee, Oklahoma. She lives in New York City. Find her online at www.hillaryjordan.com.
Praise For…
---
An "absorbing debut novel . . . Is it too early to say, after just one book, that here's a voice that will echo for years to come? With authentic, earthy prose . . . Jordan picks at the scabs of racial inequality that will perhaps never fully heal and brings just enough heartbreak to this intimate, universal tale, just enough suspense, to leave us contemplating how the lives and motives of these vivid characters might have been different."-- Biloxi Sun Herald
"A compelling family tragedy, a confluence of romantic attraction and racial hatred that eventually falls like an avalanche...The last third of the book is downright breathless." —The Washington Post Book World

"[A] supremely readable debut novel...Fluidly narrated by engaging characters...Mudbound is packed with drama. Pick it up, then pass it on." —People, four stars

"An ambitious and affecting debut...Accessible, engaging and spiked with suspense...[A] tremendous gift." —Paste, four stars

We appreciate your continued support!
If you would like to make a donation to help us through CLICK HERE.