Days of Destruction, Days of Revolt (Paperback)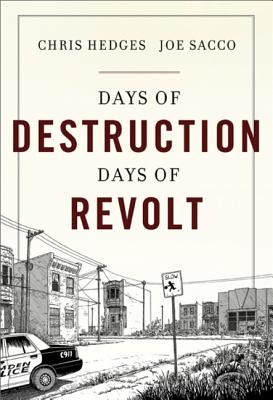 $19.99

Available in our Warehouse: Usually Ships in 3-8 Days
Description
---
Two years ago, Pulitzer Prize winner Chris Hedges and award-winning cartoonist and journalist Joe Sacco set out to take a look at the sacrifice zones, those areas in America that have been offered up for exploitation in the name of profit, progress, and technological advancement. They wanted to show in words and drawings what life looks like in places where the marketplace rules without constraints, where human beings and the natural world are used and then discarded to maximize profit. Days of Destruction, Days of Revolt is the searing account of their travels.

The book starts in the western plains, where Native Americans were sacrificed in the giddy race for land and empire. It moves to the old manufacturing centers and coal fields that fueled the industrial revolution, but now lie depleted and in decay. It follows the steady downward spiral of American labor into the nation's produce fields and ends in Zuccotti Park where a new generation revolts against a corporate state that has handed to the young an economic, political, cultural and environmental catastrophe.
About the Author
---
Chris Hedges is a Pulitzer Prize-winning journalist. He spent nearly two decades as a correspondent in Central America, the Middle East, Africa, and the Balkans, with fifteen years at the New York Times. He is the author of numerous bestselling books, including Empire of Illusion; Death of the Liberal Class; War is a Force that Gives Us Meaning; and Days of Destruction, Days of Revolt, which he co-wrote with Joe Sacco. He writes a weekly column for the online magazine Truthdig. He lives in Princeton, New Jersey.
Praise For…
---
"Days of Destruction, Days of Revolt is a journey through contemporary American misery and what can be done to change the course, interpreted through the eyes of two of today's most relevant literary journalists…. The graphics illustrate what words alone cannot, capturing a past as it's told, where there's no longer anything left to photograph."
—Asbury Park Press

"[T]he radical disjunction between how Hedges and Sacco approach their subjects is fascinating and instructive. Hedges is at ease with the grand, sweeping Howard Zinn–moments of matchbook history…. And if sweeping, historical connect-the-dots is your cup of tea, then you will find Hedges deeply moving. But if, like Sacco, you distrust all history that does not have a face, a name, and a voice behind it, you will find more to call you to action in the voices that speak from the decimated landscapes of America's deepest poverty, which we (like Dickens's "telescopic philanthropists") know even less well than we do the sufferings of peoples halfway around the world. Together, Sacco and Hedges might just have created a form that can speak across divides unbridgeable without the supplement of graphic narrative."
—Public Books

"…a bleak, fist-shaking look at the effects of global capitalism in the United States."
—Joe Gross, Austin American-Statesman

"This is a book that should warm the hearts of political activists such as Naomi Klein or the nonagenerian Pete Seeger. And cause apoplexy among the Tea Party and its fellow travellers…. Sure, it's a polemic, but it's a polemic with a human face."
—Globe and Mail (Canada)

"Days of Destruction, Days of Revolt is a harrowing account of the exploited American underclass…. It is their stories that shape Days of Destruction, Days of Revolt to be a mesmeric indictment of an America that has failed its populace…. From the title alone it is evident that neither Hedges nor Sacco remain objective or shy away from the palpable condemnation of capitalism and the American government. Regardless, they develop an accurate account of the despondency that plagues and divides American culture. This is an imperative read in an era where widespread economic depression and grief reign supreme…. Days of Destruction, Days of Revolt is powerful and remarkable, arguably one of the best publications of the year."
—PopMatters.com

"This is an important book."
—Winnipeg Free Press (Canada)

"It is a fascinating journey… This book hit me in the gut. It will move you to engage in battle."
—Ed Garvey

"This searing indictment of our unsustainable society is unsettling. To keep our chance for dignity, we must do our part to champion the organizers and whistleblowers, committee members and protesters. Amen. Pass the word."
—Brooklyn Rail

"[H]arrowing descriptions…. Hedges tells the story, not only of the people but of the town, and despite the differences in setting, certain similarities show through: poverty, addiction, violence; but more than that, a long series of broken promises and mounting despair. Sacco illustrates these chapters with his distinctive, careful line drawings…. [A]n excellent piece of journalism -- engaging, troubling, and in its own way, beautiful."
—TowardFreedom.com

"As quixotic as the quest may seem, Days of Destruction brings the rhetoric and the reality into a nobler focus after a very disturbing tour."
—The Star-Ledger (New Jersey)

"It's rare that a book carries so much courage and conviction, forcing reflection and an urge to immediately rectify the problems."
—Bookslut

"A powerful social and political exploration."
—Midwest Book Review/California Bookwatch

"[Days of Destruction, Days of Revolt] is, without question, the most profoundly disquieting (and downright shocking) portrait of modern America in recent years, and one that is essential reading for anyone wanting to comprehend the quotidian struggle of what sociologists called 'the underclass'. To describe the book as Dickensian in its horror-show reports of frontline industrial decrepitude and socio-economic dysfunction is to engage in understatement… Days of Destruction, Days of Revolt is unapologetically combative and profoundly J'accuse. And though many a conservative think-tanker could try to punch holes in its arguments no one can remain unmoved or unsettled by its brilliantly documented reportage from the precipice of a society that prefers to turn a blind eye to its nightmarish underside."
—The Times (Saturday Review)

"[B]rilliant combination of prose and graphic comics."
—Ralph Nader

"Days of Destruction, Days of Revolt (Nation) is as moving a portrait of poverty and as compelling a call to action as Michael Harrington's 'The Other America,' published in 1962."
—Boston Globe

"Days of Destruction, Days of Revolt is a gripping and thoroughly researched polemic."
—Grantland

"[R]ead Days of Destruction, Days of Revolt to know what is happening in this country."
—Caffeinated Muslim

"… a scorching look at communities burned out not by foreign bombs but by American capitalism."
—The Stranger (Seattle)

"When their narrative culminates in Zucotti Park, readers will feel just as outraged as the protesters portrayed on the page."
—Barnes and Noble Review

"Days of Destruction, Days of Revolt examines how corruption and greed have shaped the history of the United States in an unfortunate way…. This is an excellent book for those who actually need a reason to revolt, and should be read by anyone seeking public office."
—San Francisco/Sacramento Book Review

"Be prepared for an emotional experience without a happy ending. Be prepared to be defensive. Be prepared to be angry. Be prepared to be ashamed…. [T]he book is accompanied by sections that are a graphic novel approach to the individual stories of the real people interviewed in these zones of despair. What is so overpowering, and discussable, in these biographies is that they read as much like a confessional as they do a history…. Can there be anything more important to discuss?"
—Book Group Buzz, Booklist Online

"This is indeed an extraordinary, must read book."
—OpEdNews.com

"Sacco's sections are uniformly brilliant. The tone is controlled, the writing smart, the narration neutral…. This is an important book."
—New York Times Book Review

"An unabashedly polemic, angry manifesto that is certain to open eyes, intensify outrage and incite argument about corporate greed…. Through immersion reportage and graphic narrative, the duo illuminate the human and environmental devastation in those communities, with the warning that no one is immune…. A call for a new American revolution, passionately proclaimed."
—Kirkus (Starred Review)