Dirty South: OutKast, Lil Wayne, Soulja Boy, and the Southern Rappers Who Reinvented Hip-Hop (Paperback)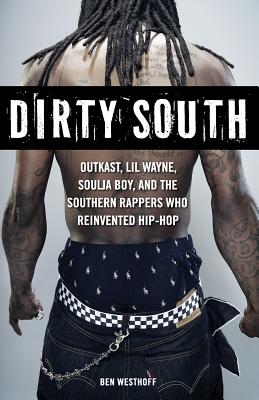 $19.99

Available in our Warehouse: Usually Ships in 3-8 Days
Description
---
Rap music from New York and Los Angeles once ruled the charts, but nowadays the southern sound thoroughly dominates the radio, Billboard, and MTV. Coastal artists like Wu-Tang Clan, Nas, and Ice-T call southern rap "garbage," but they're probably just jealous, as artists like Lil Wayne and T.I. still move millions of copies, and OutKast has the bestselling rap album of all time.
In Dirty South, author Ben Westhoff investigates the southern rap phenomenon, watching rappers "make it rain" in a Houston strip club and partying with the 2 Live Crew's Luke Campbell. Westhoff visits the gritty neighborhoods where T.I. and Lil Wayne grew up, kicks it with Big Boi in Atlanta, and speaks with artists like DJ Smurf and Ms. Peachez, dance-craze originators accused of setting back the black race fifty years. Acting both as investigative journalist and irreverent critic, Westhoff probes the celebrated-but-dark history of Houston label Rap-A-Lot Records, details the lethal rivalry between Atlanta MCs Gucci Mane and Young Jeezy, and gets venerable rapper Scarface to open up about his time in a mental institution. Dirty South features exclusive interviews with the genre's most colorful players.
Westhoff has written a journalistic tour de force, the definitive account of the most vital musical culture of our time.
About the Author
---
Ben Westhoff is a former staff writer for St. Louis's Riverfront Times, whose work has also appeared in the Village Voice, Creative Loafing, Spin, and Pitchfork.
Praise For…
---
"A fascinating exploration of the musical and personal terrain of what has come to be known as the Southern sound of rap." —Publishers Weekly

"Westhoff offers an excellent introduction to hip-hop in the South that will be informative and enjoyable for both newbies and those familiar with Southern hip-hop...A great introduction to Southern hip-hop, and a fun book for those familiar with the genre and its artists." —Library Journal

"Unprecedented in its research of the origins of Southern hip-hop, this gem is key to understanding the catalyst that caused the 21st Century Dirty South explosion." —The Source

"Dirty South is a must-read for anybody interested in hip-hop's ever growing role in America's cultural consciousness." —Forbes.com

"Packed with lively reporting and colorful social history...doesn't shy away from the bigger questions. Westhoff grapples with Southern rap's troubling racial politics and takes on the critics." —Rolling Stone