Golden Gate Gardening, 3rd Edition: The Complete Guide to Year-Round Food Gardening in the San Francisco Bay Area & Coastal California (Paperback)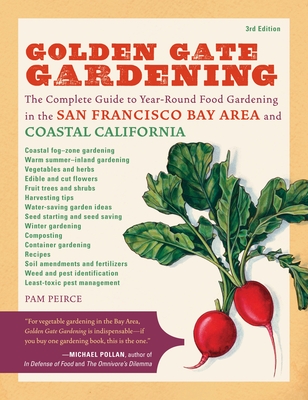 $32.00
This item is not currently available to order.
Description
---
The bible of vegetable gardening in the San Francisco Bay Area has been revised and updated! Packed with more than 400 pages of reliable information, Golden Gate Gardening offers encyclopedic coverage of gardening principles and practices specific to the Bay Area and the Northern California coast. Author Pam Peirce explains strategies for growing common favorite vegetables and herbs, plus unusual ones that bring variety to the garden. She includes information on organizing a garden, dealing with pests, assessing a microclimate, cultivating fruit trees, gardening on a rooftop, harvesting the crop, and creating delicious gardener's dishes. This third edition also contains new or updated information on resources for specific seeds, tomato planting, organic gardening, and vegetables not included in previous editions, including amaranth, shell beans, Chinese broccoli, broccoli raab, Florence fennel, oca, okra, and quinoa. Charts, sidebars, maps, and online resources help make the vegetable gardening experience easier and more fun.
About the Author
---
Pam Peirce participated in the founding of the San Francisco League of Urban Gardeners (SLUG), an organization that supported both community and home gardeners citywide. She served on its board until 1999. Pam also taught horticulture at City College of San Francisco for 30 years.

Pam started her writing career at Turnover: A Magazine of Food Issues, a publication tied to the Bay Area Peoples Food System in the mid 1970s. For Turnover, she wrote on topics in nutrition, food preparation, food history, and food politics.

Pam has written garden columns for the San Francisco Chronicle (and sfgate.com) since 2006. She is also the author of Wildly Successful Plants: Northern California. Pam lives in San Francisco.
Praise For…
---
"For vegetable gardening in the Bay Area, Golden Gate Gardening is indispensable — if you buy one gardening book, this is the one."
Michael Pollan, author of In Defense of Food and The Omnivore's Dilemma
 
"Every Bay Area gardener knows that, in addition to a copy of the Western Garden Book, you MUST have Golden Gate Gardening in your library."
Sunset

"...an excellent gardening book, of particular value for those living where the ocean fogs influence the gardening climate, but with substantial new material for those living just beyond the fog's reach."
Pacific Horticulture

"For 17 years, Bay Area gardeners have relied on Pam Peirce's authoritative 'Golden Gate Gardening' as their go-to resource for no-nonsense general instruction on nurturing fruits, vegetables and herbs in the home garden."
San Jose Mercury News

"...exceptionally thorough, authoritative and readable. It is a rare combination of solid science, practical experience and a conversational style of writing... The good chapters keep coming. Look for clear practical information on garden planning, improving garden soil, buying seeds and other starts, getting plants started and watering. The book also has very good sections on pests, diseases and annual and perennial weeds."
The Monterey Herald

"We'll admit it--we're envious of gardeners who live in regions covered by this magnificent book . . . a Laurel's Kitchen for California mid-coastal gardeners."
HortIdeas

"Peirce writes in a clear, easily understandable style. Charts show plants that thrive in fog and those that grow in sun. Month-by-month graphs identify plant and harvest schedules for year-round bounty. Included is advice on soil, composting, pest and weed control, detailed instructions for many favorite fruits, vegetables and herbs, and a few well-tested recipes for enjoying the harvest."
Marin Independent Journal

"My very favorite Bay Area gardening book is Golden Gate Gardening, a work of genius written by Pam Peirce.  I love the book so much that when I speak to serious SF Bay Area gardeners and find that they don't own it I'm shocked.  I reference it anytime I plant something new and frequently before harvesting a new crop."
FARMcurious