Equus Lost?: How We Misunderstand the Nature of the Horse-Human Relationship--Plus Brave New Ideas for the Future (Paperback)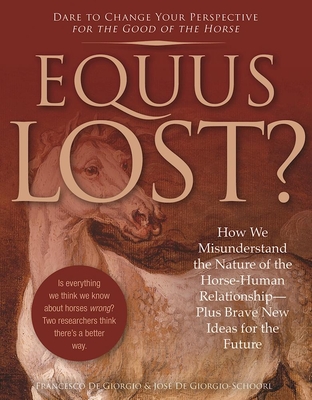 $24.95

Available in our Warehouse: Usually Ships in 3-8 Days
Description
---
In the 1980s, the world of riding, training, and competing with horses took a major turn with the spread of natural horsemanship, which at its most basic foundation rejects the use of abusive techniques and relies on methods derived from understanding the dynamics of free-roaming horse herds. Since then, equestrians across disciplines have incorporated elements of natural horsemanship into their work. But despite what was certainly an advancement in human-equine interaction that has improved the lives of many horses, Italian animal behaviorists Francesco de Giorgio and Jos de Giorgio-Schoorl dare to now ask, What if much of what we think we know about horses is, in fact, wrong? What if the premise of herd hierarchy is a myth? What if "conditioning" the horse's behavior in the ways we've grown accustomed is undercutting his potential for development? What if there is another--better--level of partnership to which we can aspire? Their provocative book takes us into a dimension where we shed our assumptions of leadership, dominance, and control, convincingly showing a way forward that acknowledges that a horse, when allowed, is driven by his own inner motivation to explore and understand the world around him, including his relationship with humans.
About the Author
---
Born in 1965 in Italy, Francesco De Giorgio is a forward thinker about animal ethics as well as a biologist, ethologist and applied behavioral researcher. Francesco is member of the Ethics Committee of ISAE (International Society of Applied Ethology), specialized in equine and canine ethology. He is also founder, developer and facilitator at the Learning Animals International Institute for Zooanthropology, where he focuses principally on the study of animal-human interaction, ethics, animal personal growth and rehabilitation.

Graduating from Parma University in 1989, Francesco began his career as an independent field researcher, supporting several universities whilst indulging his lifelong passion for horses and dogs as an Equine and Canine Learning Professional helping owners to enhance their relationships with animals.

An expert in equine and canine welfare, Francesco provides expert support for institutions occupied with animal Health and Welfare (e.g. in equine mistreatment cases), has served on a number of ethics committees, and acts as an advisor to courts, police and equine rehabilitation centers, in animal abuse cases and rehabilitations post-abuse.

Much sought-after as both a speaker and lecturer, Francesco speaks regularly on Cognitive Ethology in the Animal-Human Relationship. He also lectures at several universities and has presented to numerous conferences and symposia on ethology, cognition and zooanthropology. He lives in the Netherlands.

Jose Schoorl personifies the bridge between animal perception and human understanding. She teaches people how to comprehend. live and improve the relationship with others from the (animal) other s point of view.

After many years of change adviser and personal growth consultant, today she is a renowned proponent of the zooanthropological approach, working for the change in awareness and understanding of the Animal-Human Relationship. This led to a new focus in her work as change adviser, where she is now helping organizations that work for animal wellbeing and health care, to put their client's perception and quality of life, central in the activities.

In her work at the Learning Animals Institute for Zooanthropology, Jose strives to improve people s understanding of relationship dynamics, and in so doing to enhance their relationship with other animals. Contending that a firm grasp of cognition is the vital first step to understanding behavior, intention and relationship dynamics, Jose is a real force for change; inspiring and promoting fresh thinking in her writing and in her lectures and creating effective personal growth trajectories for individuals. A regular guest lecturer and speaker in zooanthropology, Jose has presented to conferences and symposia throughout Europe. Jose has an in-depth experience in facilitating change and helping people to develop themselves within changing situations. She lives in the Netherlands."