Deeper Reading: Comprehending Challenging Texts, 4-12 (Paperback)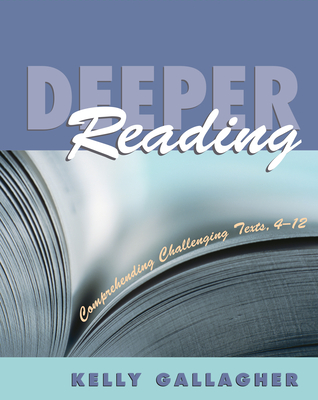 $48.54

Available in our Warehouse: Usually Ships in 3-8 Days
Description
---
Do your students often struggle with difficult novels and other challenging texts? Do you feel that you are doing more work teaching the novel than they are reading it?
Building on twenty years of teaching language arts, Kelly Gallagher shows how students can be taught to successfully read a broad range of challenging and difficult texts with deeper levels of comprehension. In Deeper Reading: Comprehending Challenging Texts, 4-12, he shares effective, classroom-tested strategies that enable your students to:
Accept the challenge of reading difficult books and move beyond a "first draft" understanding
Consciously monitor their comprehension as they read and employ effective "fix-it" strategies when comprehension starts to falter
Use meaningful collaboration and metaphorical thinking to achieve deeper understanding of texts
Reflect on the relevance the book holds for themselves and their peers by using critical thinking skills to analyze real-world issues
Gallagher also provides guidance on effective lesson planning that incorporates strategies for deeper reading.
Funny, poignant, and packed with practical ideas that work in real classrooms, Deeper Reading is a valuable resource for any teacher whose students need new tools to uncover the riches found in complex texts.
About the Author
---
Kelly, a "baseballoholic" and a self-described expert at negotiating airports, is in his 33rd year of teaching at the high school level.
He currently teaches at Magnolia High School in Anaheim, California.
He believes that "there is no greater pleasure than teaching someone something." Teaching is "artistic, it matters a great deal, and I can never get the job down perfectly."
Kelly thinks that professional development should treat teachers as such - professionals. "I know in the classroom that good things happen when my students have meaningful discussions. I know as a teacher myself that my craft sharpens when I am given the opportunity to have meaningful discussions with my peers. And let's have a laugh or two while we are at it."
Writing his six books for Stenhouse was a solitary experience. "Though I have written outlines prior to each of my books, I have yet to follow any of them step-by-step. That is why I find writing rewarding - because the act of writing itself generates new thinking, and new thinking is always exciting."
Praise For…
---
"Deeper Reading deserves to be part of all reading teachers' libraries and mandatory for every new teacher." - Education Review


"My copy of Deeper Reading looks like a celebration. Dog-eared sticky notes flutter from the top and sides. Highlighter colors are sprinkled down the pages. Yes, this book is a keeper." - Teacher Learners Network


"The author examines key reading issues and presents effective and practical strategies to move students beyond surface-level understanding into reflection." - School Library Journal


"The text is full of easy-to-implement ideas that can be used right away. The questions, planning guides, explanations, and activities combine to form a highly usable text that would be helpful to a new teacher as well as an experienced one." - Journal of Adolescent & Adult Literacy