The Multifidus Back Pain Solution: Simple Exercises That Target the Muscles That Count (Paperback)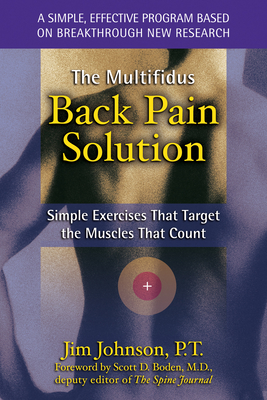 $16.95
This item is not currently available to order.
Description
---
Based on breakthrough results from the newest scientifically proven research, this guide offers back-pain sufferers real relief--simple exercises that target the exact muscles that have been newly identified to be the source of most back pain.
If you are one of the millions who suffer from recurring back pain, and have found that your attempts at complicated and time-consuming exercise programs and treatments have not helped, it's time to learn the simple techniques that strengthen the specific muscles that are at the root of your pain. Start living free from pain now
When physical therapist Jim Johnson reviewed the back-pain studies in peer-reviewed medical journals published over the past fifteen years, he found that the research suggested that a specific set of muscles played a key role in a great majority of back-pain incidences. The results showed that most back-pain sufferers have undeveloped multifidus (mull-tiff-i-dus) muscles. These muscles connect the spinal vertebrae together and play a subtle, but critical, role in bending and twisting motions of the back. If they are weak, inflamed, or in spasm, they can cause chronic back pain. In response to these findings, Johnson devised a simple series of exercises that focus on strengthening the multifidus muscles--and had fabulous results in reducing back pain for a variety of patients.
About the Author
---
Jim Johnson is a licensed physical therapist with over ten years of research, teaching, and clinical experience with chronic pain patients. Currently he is a certified clinical instructor in physical therapy at Emory University Hospital in Atlanta, Georgia.