Teaching Gifted Kids in Today's Classroom Professional Development Multimedia Package (Free Spirit Professional™) (Mixed media product)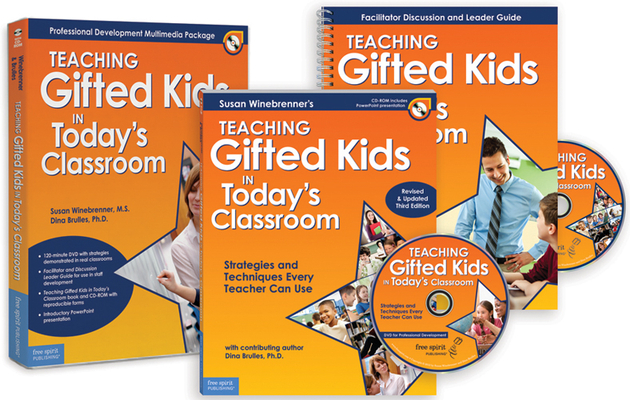 $329.99
This item is not currently available to order.
Description
---
Get the benefit of in-person author workshops for a fraction of the cost with this comprehensive professional development resource. Teachers will be introduced to proven, practical classroom strategies for meeting the needs of gifted learners, whether they work in a mixed-ability classroom, cluster classroom, gifted-education classroom, resource room, or another setting.

The package includes:• DVD (100+ minutes) featuring top-selling authors Susan Winebrenner and Dina Brulles along with actual classroom teaching sessions that illustrate key strategies from the book• A copy of the book Teaching Gifted Kids in Today's Classroom• Digital content containing all of the customizable reproducible forms from the book along with an introductory PowerPoint presentation• Study Group Leader's Guide that directs users through the book and the video as they use these in study groups or other forms of staff development (softcover, spiral bound, 8½" x 11½", 96 pp.)

In addition to discussion and modeling of pivotal teaching strategies, the resource covers 21st century learning, assessment, technology, RTI, and schoolwide cluster grouping.
About the Author
---
Susan Winebrenner, M.S., is a former classroom teacher and current full-time consultant in staff development. She presents workshops and seminars nationally and internationally, helping educators translate educational research into classroom practice. Susan is also the author of Differentiating Content for Gifted Learners in Grades 6–12 (CD-ROM) and Teaching Kids with Learning Difficulties in the Regular Classroom, and coauthor of The Cluster Grouping Handbook. She lives in San Marcos, California.

Dina Brulles, Ph.D., is a school administrator and the gifted-education director for the Paradise Valley Unified School District in Arizona. She also assists districts throughout the United States in developing gifted-education programs, including those districts serving culturally and linguistically diverse gifted students. Dina is a former elementary classroom, bilingual, ESL, and gifted-cluster teacher. Dina is coauthor of The Cluster Grouping Handbook. She lives in Peoria, Arizona.