ABC Thankful Me (Hardcover)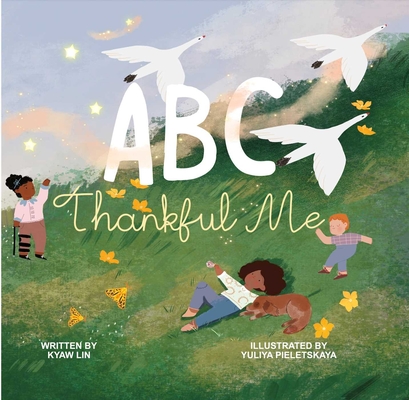 $16.99

Available in our Warehouse: Usually Ships in 3-8 Days
Description
---
Children learn the alphabet and practice gratitude with this dazzling ABC book of every-day wonders.

There are endless things to be thankful for, but let's start with 26.

This delightfully illustrated picture book takes young readers (and adults) on an alphabetical adventure of abundance, positivity, and joy.

D is for dancing.
Thank you, dancing.

I shake my hips and swing them side to side.
Life is a dance, so dance and feel alive.

E is for evening.
Thank you, evening.

A gorgeous sunset floods the golden sky.
I lie on sunlit grass till stars come by.

ABC Thankful Me, written in gentle, rhythmic rhyme, is an ideal read-aloud book and a perfect bedtime meditation on life's many blessings.
About the Author
---
Kyaw (Cho) immigrated to the United States from Myanmar at the age of seven, barely speaking a word of English. Determined to learn the new language, he spent most of his childhood visiting public libraries in Queens, New York. After stumbling upon numerous romantic novels and human anatomy books, he would later come home with various uncomfortable questions for his parents. These days, he continues to visit local libraries. However, his wife and two know-it-all sons now accompany him.

Yuliya Pieletskaya is a children's book illustrator and 3D environmental artist. Originally from Odessa, Ukraine, she immigrated to upstate New York at the age of 9. She currently lives in Chicago with her husband and two bunnies. In her spare time, she wanders the prairies of Illinois, looking for birds, flowers, and bunnies to admire from afar. She is passionate about protecting all of America's public lands and wildlife, as well as environmental justice. This is her second published book.