Twin Cities Haunted Handbook: 100 Ghostly Places You Can Visit in and Around Minneapolis and St. Paul (America's Haunted Road Trip) (Paperback)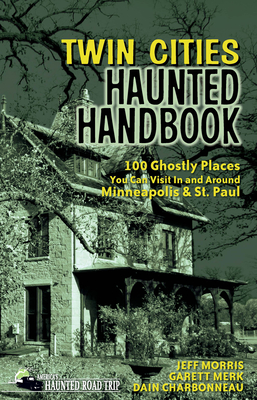 $17.95

Available in our Warehouse: Usually Ships in 3-8 Days
Description
---
Twin Cities Haunted Handbook is the newest book in the Haunted Handbook line within the popular America's Haunted Road Trip series. The Haunted Handbooks are city-specific travel guides to nearly one hundred places within a major city. Twin Cities Haunted Handbook is written with the ghost enthusiast in mind. All 100 chapters contain information on the history as well as the haunting surrounding each location, as well as detailed directions on how to locate each site. Many of the chapters also contain insider information that only a local would know, making it easier for ghost hunters to investigate. Ghost hunters Jeff Morris, Garett Merk, and Dain Charbonneau explore all the best haunted locales Minneapolis has to offer, including Dead Man's Pond, Memorial Pet Cemetery, Padelford Packet Boat Company, the Old Jail Bed and Breakfast, and St. Thomas College and the Legend of the 13 Graves. Each two page entry includes directions from downtown, an historical overview of the haunted place, the story of ghostly doings in that place, and advice on visiting the place yourself--if you dare.

About the Author
---
Jeff Morris achieved his degree in English from the haunted Miami University in Oxford, Ohio, and spent the early part of his career as an English instructor at a college in Cincinnati. While teaching, Jeff became interested in the ghost stories in the Cincinnati area. In 2005, he started working with his brother, Michael Morris, on their first book, "Haunted Cincinnati and Southwest Ohio," which was published in June of 2009 by Arcadia Publishing. Beyond the book, Jeff has become very involved in the paranormal field in the Midwest. In 2006 he and his brother founded Miamitown Ghost Tours, which continues to run year round. In 2009, they joined a paranormal investigation group called CAPER (Cincinnati Area Paranormal Existence Research), and they started an online radio show called Miamitown Ghost Talk. In the fall of 2010, both Jeff and Michael published "Cincinnati Haunted Handbook." He lives in Cincinnati.

Garett Merk attended college at the University of Dayton and earned a degree in Computer Engineering. He joined the US Navy in late 2004. While in the Navy he had the opportunity to investigate several places in the Southern/Central California area. Garett is the founder of the Tri-State Paranormal and Oddities Observation Practitioners (TriPOOP). He enjoys research and investigations of haunted locations in an effort to capture indisputable evidence of the paranormal. He lives in Cincinnati, Ohio.

Dain Charbonneau currently resides in Minnesota where he grew up enjoying camping and fishing. He is the founder of the Twin Cities Paranormal Research Group with the purpose of investigating claims of paranormal activity and researching the history that the tales of activity stem from.

"
Praise For…
---
"The trio [of authors] selected the 100 most ghostly places in the area, and offers a succinct history of each, along with some practical tips (namely: drive safety; stay off the tracks; be respectful of the locals; pony up for a meal, room, or game of golf; and be extra careful in the restrooms at the Mall of America.) Some of these stories are terribly sad, many of them are fascinating, and a few seem pretty hokey. And on that point, even the authors agree: Some ghost stories are probably no more than stories." -- Amy Goetzman, MinnPost.com