The Book of Enoch the Prophet (Paperback)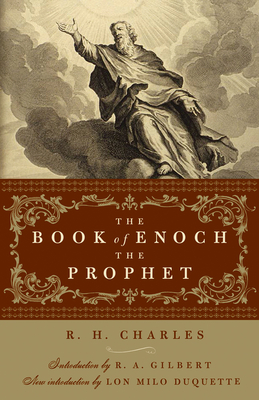 $16.95

Available in our Warehouse: Usually Ships in 3-8 Days
Description
---
This superlative translation by noted scholar and theologian R. H. Charles is one of the best and most complete available.

Along with the renowned translation by R. H. Charles, this edition also included is an introduction by noted esoteric scholar and antiquarian bookseller R. A. Gilbert, He helps readers understand the historical context of The Book of Enoch and dispels many of the myths dubious interpretations previously attributed to it. In addition, this new edition of The Book of Enoch, features a new introduction by bestselling author and expert on mysticism and the occult spiritual literature, Lon Milo DuQuette.

The vision of the Apocalypse portrayed in The Book of Enoch takes a very different view than that of western Christians, although it is part of the biblical canon for Ethiopian and Eretrean Christians. According to Enoch, the wicked shall be cast out and the good will realize a literal heaven on Earth. The prophecies also contain the lost "Book of Noah," early references to a messiah as "Christ," and an accounting of the angels and subsequent creation of demons.
About the Author
---
R. H. Charles was a noted theologian and scholar, with many of his reference works remaining in print today, and still of superlative scholarly value. His introduction describes the history of the Book of Enoch and delves into its historical and contemporary importance. R. H. Charles died in 1931.

R.A. Gilbert is an esoteric scholar and antiquarian bookseller who lives in Bristol, England.

Lon Milo DuQuette is a bestselling author who lectures worldwide on such topics as magick, tarot, and the Western Mystery Traditions. He is currently the US Deputy Grand Master of Ordo Templi Orientis and is on the faculty of the Omega Institute in Rhinebeck, N.Y. and the Maybe Logic Academy. Visit him at londuquette.com.