American Homes: The Landmark Illustrated Encyclopedia of Domestic Architecture (Paperback)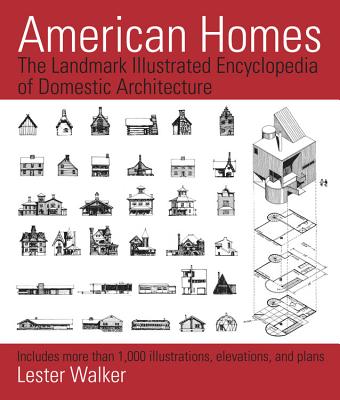 $27.99

Available in our Warehouse: Usually Ships in 3-8 Days
Description
---
American Homes is the classic work of American house architecture. From the Dutch colonial, to the New England Salt Box, to the 1950s prefab, this unrivaled reference and useful guide to 103 building styles pays homage to our country's housing heritage.

American Homes opens the window onto the rich landscape of all the places we call home. Award-winning architect Lester Walker examines hundreds of styles of homes -- more than any other survey of American domestic architecture -- and helps us understand the history of each style, why it developed as it did, and the practical and historical reasons behind its shape, size, material, ornament, and plan. Hundreds of sequenced drawings illustrate the evolution of our most beloved housing styles, like the colonial English Cottage, which grows before our eyes from a simple square of posts and beams to a fully constructed home with hand-split cedar clapboards and an intricately thatched roof. There's also the Italianate, whose roof displays its intricate carved brackets and is topped with a cupola that serves to filter light to the interior of the home. Annotated floor plans offer insight into the structure of these homes, and with it, a good measure of inspiration. No wrought-iron railing, white stucco wall, or gingerbread gable goes neglected. Every idiosyncratic detail and decoration of each of these uniquely American designs is delicately drawn.

American Homes is the perfect reference for enthusiasts of architecture, history, and American studies. It is also the ideal inspiration for anyone who lives in or dreams of living in a classic American home.
About the Author
---
Lester Walker is an award-winning architect and author of numerous books related to houses and architecture, including Little House of My Own, Housebuilding for Children, and Block Building for Children. He has been a professor of architecture at City College of New York and has lectured and presented seminars at Harvard, MIT, UCLA, and the Rhode Island School of Design. His work has appeared in such magazines as House Beautiful, Time, House and Garden, Life, and Progressive Architecture. He lives in Woodstock, New York, where his architectural firm is based.