Lessons in Wine Service (Hardcover)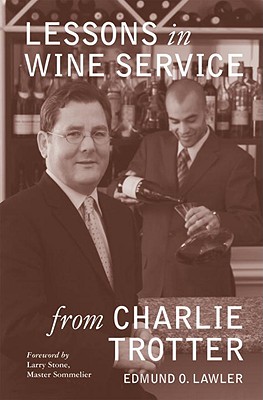 $29.70
This item is not currently available to order.
Description
---
In the third book in the Lessons from Charlie Trotter series teaches wine directors and servers how to develop and maintain impeccable service by giving an in-depth look at one of the world's top wine programs.

At Charlie Trotter's eponymous restaurant in Chicago, the innovative and award-winning wine program is an essential part of an extraordinary dining experience. LESSONS IN WINE SERVICE outlines and analyzes the intricate challenges inherent in developing and executing consistently outstanding wine pairings and service. Aspiring sommeliers, restaurant owners, and wine servers will learn how to hire and train the right staff, provide precise and intuitive service, and craft and maintain a compelling wine list.

"Anyone who wants to understand American cuisine as it enters the 21st century must eat at Charlie Trotter's No restaurant in America comes closer to delivering a flawless total dining experience." --Wine Spectator
About the Author
---
EDMUND O. LAWLER teaches journalism at DePaul University and is the author of five books. He lives in Chicago, Illinois, with his wife and two sons.

 THE AUTHOR SCOOP

What's the history of your name?
My last name is a distillation of my ancestral name O'Leathlobhar, which is Gaelic for half-leper.

What was your first job?
Out of college, my first job was as a reporter for the City News Bureau of Chicago. I got to cover cops, politicians and crooks. Some of the categories overlapped.

If you owned a horse, what would you name it?
Mr. Ed

What's the farthest you've ever traveled?
I traveled to the Persian Gulf in 2004 where I taught journalism for two weeks at the University of Bahrain.

What did you want to be when you grew up?
I wanted to play shortstop for the Chicago White Sox.