Fairies, Gnomes & Trolls: Create a Fantasy World in Polymer Clay (Paperback)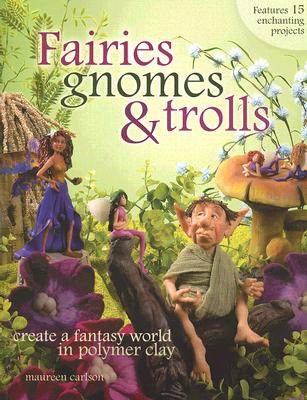 Description
---
Welcome to the world of the Faerie Folk
Create an idyllic, polymer-clay world filled with fairies, playful sprites, clever gnomes and elves, wise wizards and misunderstood trolls. Whether you are new to polymer clay, or looking to improve your skills, Fairies, Gnomes & Trolls offers everything you need to unlock the characters in your imagination and bring the magic of the fairy to life.
Inside you'll find 15 complete projects, including:
Isa Rosalia, the flower fairy
Dray Van Elm, the elf king
Broogen Bogge, the rock troll
Ophelia Lilliana, the sprite
With an introduction to polymer clay techniques, a complete section on creating polymer clay figures, plenty of tips for working with clay and personalizing your projects, as well as variation projects for many of the characters, Fairies, Gnomes & Trolls is packed with everything you need to create your own fantasy world
About the Author
---
Maureen Carlson is a renowned polymer clay artist and the author of four previous North Light books. She has had numerous appearances on the Carol Duvall show. Maureen owns and operates Wee Folk Creations, a polymer clay mail order company, and Maureen Carlson's Center for Creative Arts in Jordan, Minnesota.