The NutriBase Nutrition Facts Desk Reference: Second Edition (Paperback)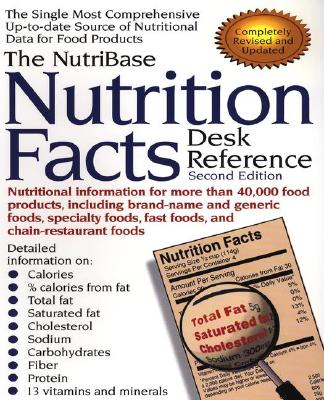 $38.50
This item is not currently available to order.
Description
---
A completely revised and updated edition of the most comprehensive collection of food values.
With more than 77,000 copies in print, The NutriBase Nutrition Facts Desk Reference is an essential tool for monitoring the nutritional value of your diet.
This completely updated edition provides thorough nutritional profiles of generic, brand-name, prepared, and specialty foods, including values for fast foods and restaurant meals--more than 40,000 listings in all. Arranged alphabetically for easy reference, listings are complete with the amount of calories, carbohydrates, sodium, protein, fiber, fat, saturated fat, cholesterol, and percentage of calories from fat in each item--in short, everything needed to analyze diet and nutrition.
This essential reference book is based on data from the NutriBase Nutrition Managers integrated software package, the most complete and versatile nutritional and fitness information available.
About the Author
---
Art Ulene, MD, is also the author of Dr. Art Ulene's Complete Guide to Vitamins, Minerals, and Herbs. His health reports have appeared nationally on NBC's Today show for fifteen years, and he has also appeared weekly on ABC's Home show for over two years.