Clark Howard's Living Large for the Long Haul: Consumer-Tested Ways to Overhaul Your Finances, Increase Your Savings, and Get Y our Life Back on Track (Paperback)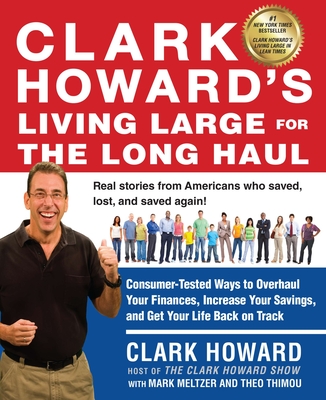 $20.00
This item is not currently available to order.
Description
---
The follow-up to Clark Howard's #1 New York Times bestseller, Living Large in Lean Times, offers no-nonsense financial tips for achieving lifelong prosperity

Americans from all walks of life are still feeling the roller-coaster effects of the Great Recession. For many, home values are still too low and unemployment is still too high. Others have prospered despite the ups and downs. In Clark Howard's Living Large for the Long Haul, the renowned broadcaster examines our new paradigm through the eyes of those whose financial portfolios have beaten the odds, and those whose economic situation has gone off course. Through these fascinating personal accounts, readers uncover amazing opportunities and smart decisions, finding advantages in bleak times for lasting payoffs in the long run.
About the Author
---
Clark Howard's national radio show airs on more than 200 stations throughout North America. He also co-hosts HLN's Evening Express news program, and three of his previous books were New York Times bestsellers. Mark Meltzer is executive editor at the Atlanta Business Chronicle. Theo Thimou is director of content for ClarkHoward.com. All three live in Atlanta.