Rock Solid Faith (Paperback)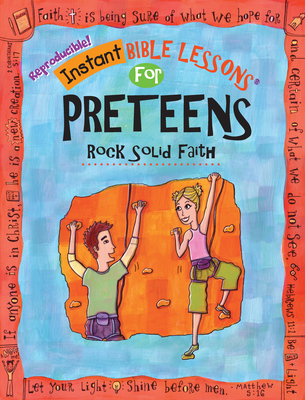 $14.99

Available in our Warehouse: Usually Ships in 3-8 Days
Description
---
Mom
'
s Choice Award Winner
Fully-Reproducible Kids' Bible Lessons for Preteens (Ages 10-12). Features 8 all-inclusive lessons with over 60 flexible Bible activity options. Perfect for Sunday Schools, Christian homeschool curriculum, kids church, youth groups, and more
Packed with cool stories, fun games, discussion questions, and awesome Bible activities (crafts, skits, and creative projects)
, these reproducible Bible lessons teach preteens how to trust in God and develop unshakeable faith
Covering everything from witnessing and stewardship to faith and service,
this 96-page reproducible book offers everything you need to teach preteens in eight extended sessions. With over 60 activity options, you can easily shape and customize your lesson for your class.
Features:
8 Bible lessons with extended flexibility options (up to 3 hours of material per chapter)
Reproducible, perforated pages that you can use again and again
Discussion questions and teaching tips
Solid Bible-teaching that appeals to preteens interests
Over 60 cool, "non-cheesy" Bible activities Unleash your pre-teens' creativity with these Bible-themed projects:

Construct-a-cartoon
Crosswords
Creative Crafts
Youth group skits
Interactive Games and Songs
Reflective journaling (and more )
Bonus Resources for Kids Sunday School Teachers: Bulletin Board Decorations and extra chapter full of bonus kids church ideas, clip art, and more
What is the format of this Bible lesson for Preteens?
Each of the first eight chapters includes a Bible story, memory verse, and a variety of Bible activities, Bible crafts, and Bible puzzles. An additional chapter contains miscellaneous projects that can be used anytime throughout the study or at the end to review the lessons.
5 Key Features of RoseKidz's Preteen Bible Lessons1. Cool Bible Stories and Relevant Preteen Topics (Age-Appropriate)
Enjoy having solid, Bible-based material that explains key information in a way that is easy-to-understand and relevant to preteens. Covers important topics, including temptation, peer pressure, disappointment, self-worth, and more
2. Packed with Fun Bible Activities, Discussion Questions, and Creative Project Ideas for Preteens
Loaded with original Bible activities, fun crafts, skit ideas, music options, reflective journaling, and more Preteens love to hang out with their friends and this reproducible lesson book will create an engaging atmosphere Easily keep kids' attention and unleash their creativity with these fun activities Includes intriguing questions that will get your youth group to open up, think hard, and apply the Word to their lives.
3. Flexible Options Available
Bible verses and stories kick off each lesson followed by Bible activities that help preteens remember key information. Each lesson includes 8 different activity options, making it easy to customize your lesson to the needs, learning, styles, and preferences of your class.
Do you have a talkative bunch?... Don't worry... each lesson includes discussion questions Have a group that can't sit still? Enjoy having dozens of game ideas at your fingertips Has God blessed you with a quiet class? There are puzzles, mazes, and journaling activities to get them thinking.
4. Ready-to-Use, Fully-Reproducible Bible Lessons
Each lesson is all-inclusive and includes step-by-step instructions for Kids Sunday School teachers and youth group leaders. Plus, this reproducible book uses perforated pages making it easy to make copies for your Sunday School class, home school curriculum, kids church, etc.
5. Low-Prep Time and Budget-Friendly

Includes ready-made hand-outs and includes templates for art and crafts. Most lessons use materials you can find around your house--helping you stick to your budget.