Quicksand: A Novel (Hardcover)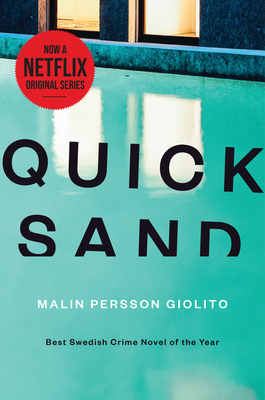 $28.55
This item is not currently available to order.
Description
---
NOW A NETFLIX ORIGINAL SERIES

Named an NPR "BEST BOOKS OF 2017"

Named the Best Swedish Crime Novel of the Year by the Swedish Crime Writers Academy

An incisive courtroom thriller and a drama that raises questions about the nature of love, the disastrous side effects of guilt, and the function of justice

A mass shooting has taken place at a prep school in Stockholm's wealthiest suburb. Eighteen-year-old Maja Norberg is charged for her involvement in the massacre that left her boyfriend and her best friend dead. She has spent nine months in jail awaiting trial. Now the time has come for her to enter the courtroom. How did Maja—popular, privileged, and a top student—become a cold-blooded killer in the eyes of the public? What did Maja do? Or is it what she failed to do that brought her here?

Malin Persson Giolito has written a perceptive portrayal of a teenage girl and a blistering indictment of a society that is coming apart. A work of great literary sensibility, Quicksand touches on wealth, class, immigration, and the games children play among themselves when parents are no longer attuned to their struggles.
About the Author
---
Malin Persson Giolito was born in Stockholm in 1969, and grew up in Djursholm, Sweden. She holds a degree in law from Uppsala University and has worked as a lawyer for the biggest law firm in the Nordic region and as an official for the European Commission in Brussels, Belgium. She is now a full-time writer and has written four novels including Quicksand, her English debut. Persson Giolito lives with her husband and three daughters in Brussels.
Praise For…
---
"This is the evolution of Scandinavian crime, in more ways than one." —Fredrik Backman, author of A Man Called Ove

"A remarkable new novel…Giolito…writes with exceptional skill…[Quicksand is] always smart and engrossing…Giolito keeps us guessing a long time and the outcome, when it arrives, is just as it should be." —Washington Post

"[Quicksand] provides a razor-sharp view of modern Sweden and its criminal justice system, yet is a tonic for readers who have had enough of the brooding, often-bloody 'Scandi-crime' that has been so popular in recent years." —NPR

"Astonishing…a dark exploration of the crumbling European social order and the psyche of rich Swedish teens…the incisive language that's on display here surely involves translation precision that's second to none." —Booklist (starred review)
 
"[Quicksand] is structured as a courtroom procedural, yet it clearly has ambitions beyond that, addressing Sweden's underlying economic and racial tensions." —New York Times Book Review

"Brilliantly conceived and executed, this extraordinary legal thriller is not to be missed." —Library Journal (starred review)
 
"Haunting and immersive." —Publishers Weekly

"Expert dialogue and irresistible momentum make an all-too-realistic story come breathing off the page…Part courtroom thriller, part introspection, Quicksand is pulled tight throughout by the suspense, not only of Maja's verdict, but of the elusive 'truth' of what really happened in the classroom that day." —Shelf Awareness 

"Thrilling." —TIME

"Sharp social commentary through the tragic story of a young woman's trial for mass murder…The rhythm, tone, and language are just right…a splendid work of fiction." —Kirkus Reviews

"Persson Giolito's craft takes us on a psychological ride." —Huffington Post

"A compelling, multi-layered study of a terrible school shooting." —Boston Herald