Hold Fast Your Crown: A Novel (Paperback)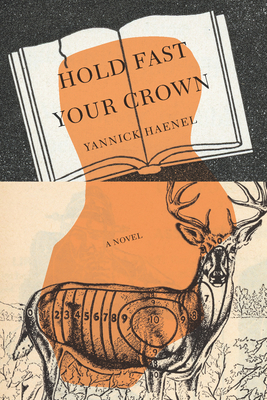 Staff Reviews
---
Read. This. Book. It is by far my favorite book since MOBY-DICK; in fact, I would even call this masterpiece a MOBY-DICK for the modern age. Perhaps, then, it is no surprise that the novel surrounds a man who has written an epic screenplay of the life of Herman Melville. Like MOBY-DICK, we soon fall into a madness that is profound, philosophical, symbolic, and utterly, utterly beautiful. Words cannot describe the sheer force of this novel. The writing is instantly transformative and suffused with emotion; prepare to be blown away.
— Luisa
Description
---
"A story of madness, art, alcohol and creativity…elegantly translated…vivid." —New York Times

An exasperated writer obsessed with American cinema embarks on an increasingly bizarre journey in this heady, engrossing novel.

A man writes an enormous screenplay on the life of Herman Melville. Not a single producer is interested in it. One day, someone gives him the phone number of the great American filmmaker Michael Cimino, legendary director of The Deer Hunter and Heaven's Gate. A meeting is arranged in New York, and Cimino reads the manuscript. What follows is a series of crazy adventures through Ellis Island, the Musée de la Chasse in Paris, a lake in Italy.

We run into Isabelle Huppert, Diana the hunting goddess, a Dalmatian named Sabbat, a diabolical neighbor, and two shady characters with conspicuous mustaches. There's also a pretty PhD student, an unpleasant concierge, and an aggressive maître d' who looks like Emmanuel Macron...

This improbable, insightful tale bridges the divide between cinema and literature in unexpected ways that are at once gratifying and profound.
About the Author
---
Yannick Haenel is the author of several novels, including Introduction à la mort française and Évoluer parmi les avalanches. The Messenger, published in France under the title Jan Karski, won the Prix Interallié and the Prix du roman FNAC in 2009. In Paris in 1997, he cofounded the avant-garde literary journal Ligne de risque.
 
Teresa Lavender Fagan is a freelance translator. She has published more than a dozen book-length translations, including Jean Bottéro's The Oldest Cuisine in the World: Cooking in Mesopotamia and Catherine Cusset's Life of David Hockney.
Praise For…
---
Shortlisted for the 2017 Prix Goncourt 

"A story of madness, art, alcohol and creativity…elegantly translated…vivid." —New York Times

"[An] audacious novel…The book's charm lies in its determination to take outlandish risks." —The New Yorker

"[A] unique, ecstatic novel." —Wall Street Journal

"Entertaining." —New York Times Book Review

"The delightfully deluded protagonist of [Hold Fast Your Crown] juggles high and pop culture references with aplomb and a light touch…This is a stimulating novel, full of mischief and clever curveballs." —Publishers Weekly

"This wildly ambitious novel audaciously layers on metaphors that explore truth, film and art, and the essence of life." —Booklist

"Hold Fast Your Crown is French literature at its best…it works, in no small measure thanks to Haenel's strange and haunting prose…stimulating…beautiful and memorable." —PopMatters

"Undeniably dazzling…a remarkable, sustained, high-wire act, a book that seems constantly to teeter on the edge of disaster without ever quite succumbing. Hold Fast Your Crown thrives on Haenel's buoyant prose." —New York Journal of Books

"Crazy, brilliant, addictive, and darkly poetic." —Le Figaro

"Wonderfully mad." —Le Parisien
 
"A wild novel, a blaze of astounding images." —L'Obs
 
"Intense…a book of visions, fantasies, and obsessions." —Le Monde
 
"Written on the razor's edge, in a perpetual tension, this profound and hallucinatory book is a firecracker." —Le Canard enchaîné
 
"A literary fever and fervor that speak volumes." —Lire