The Double Goddess: Women Sharing Power (Paperback)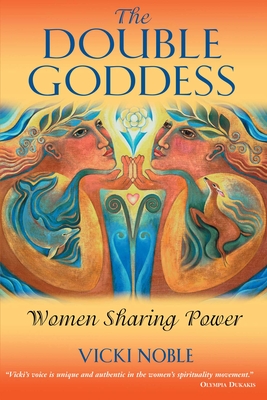 $18.00

Available in our Warehouse: Usually Ships in 3-8 Days
Description
---
The first book to seriously study the double goddess that figures prominently in Neolithic and Bronze Age cultures.

• Offers an important symbol for modern women seeking to reconnect with their ancient, integral sense of self and wholeness.

• Presents an archetype for the sacred potential of female bonding, whether between mother and daughter, teacher and student, friends, or lovers.

• Illustrated with 149 examples of double goddess images.

Numerous figures depicting two women in intimate relation with one another, or as a single body with two heads, have been discovered in important centers of early civilizations such as Catal Huyuk and Gozo. These have been routinely ignored by scholars or dismissed as mere dolls with no sacred connotations whatsoever. Vicki Noble shows, to the contrary, that this double goddess is an ancient icon that can considerably expand our understanding of female sovereignty, as well as provide contemporary women with a way to reconnect with the integral sense of self and wholeness enjoyed by their ancestors.

Ancient Goddess religion was informed by the organic cycles of nature--the dual poles of Life and Death. The double goddess represents phenomena such as the Earth-Moon pair, the Upper-Underworld pair, the Summer and Winter poles of the seasonal year, and the dual poles of the female biological reality of menstruation and ovulation--the dark and the light. The double goddess in all her varied forms also depicts the vast array of potential relationships women can form with themselves and each other. This book is a celebration of an archetype that not only empowers women, but also teaches them how to share that power with each other.
About the Author
---
Vicki Noble is a feminist, healer, scholar, teacher, and cocreator (with Karen Vogel) of the original round Motherpeace deck that has found its way into over two hundred thousand homes around the world. She is the author of Shakti Woman, Motherpeace: A Way to the Goddess, Motherpeace Tarot Playbook (with Jonathan Tenney), The Double Goddess, and The Triple Goddess Tarot. She lives in the mountains near Santa Cruz, California.
Praise For…
---
"Vicki's voice is unique and authentic in the women's spirituality movement."
— Olympia Dukakis, Academy Award-Winning Actress

"Noble's research is painstakingly detailed and will be sure to engage readers interested in women's spirituality."
— Mimi Davis, Library Journal, September 2003, Vol.128 No. 15

"Vicki Noble rekindles the forgotten lineage of female-to-female transmission--the sacred flow of energy between women that has never been possessed by the patriarchy nor by any male."
— Mary Daly, author of Gyn/Ecology and Quintessence

"A truly international collection of artifacts reflecting the power of ancient women . . . beautifully places each image in its historic context, affording an understanding of these ancient matristic cultures."
— JEANNINE DAVIS-KIMBALL, PH.D., Center for the Study of Eurasian Nomads

"Vicki Noble's observation that, in many instances, matriarchal figures are depicted as bonded with other women in groupings of two or more . . . is original and brilliantly thought-provoking. She has, in fact, opened a new window on prehistoric societies."
— EVA KEULS, PH.D., author of The Reign of the Phallus

"The Double Goddess: Women Sharing Power is Vicki Noble's most important book to date."
— Monica Sjoo, Goddessing, Issue #19, Winter/Spring 2004-5

"Vicki is herself a great healer and is very experienced in how women's "heat," magnetically flowing energies finely tuned to each other, can bring about miracles."
— Monica Sjoo, Goddessing, Issue #19, Winter/Spring 2004-5

"I highly recommend this book as an essential piece of Goddess scholarship and religion."
— Madelon Wise, MatriFocus, Imbolc 2005