Spirits in Stone: The Secrets of Megalithic America (Paperback)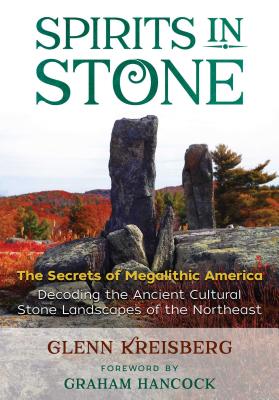 $25.00
Available in our Warehouse: Usually Ships in 3-8 Days
Description
---
A ground-breaking study of ceremonial stone landscapes in Northeast America and their relationship to other sites around the world

• Features a comprehensive field guide to hundreds of megalithic stone structures in northeastern America, including cairns, perched boulders, and effigies

• Details the Wall of Manitou, the Hammonasset Line, landscape astronomy along the Hudson River, and a several-acre area in Woodstock, NY, with large, carefully constructed lithic formations

• Analyzes the archaeoastronomy, archaeoacoustics, and symbolism of these sites to reveal their relationships to other ceremonial stone sites across America and the world

Presenting a comprehensive field guide to hundreds of lost, forgotten, and misidentified megalithic stone structures in northeastern America, Glenn Kreisberg documents many enigmatic formations still standing across the Catskill Mountain and Hudson Valley region, complete with functioning solstice and equinox alignments.

Kreisberg provides a first-person description of the "Wall of the Manitou," which runs for 10 miles along the eastern slopes of the Catskill Mountains, as well as narratives about related sites that include animal effigies, reproductive organs, calendar stones, enigmatic inscriptions, and evidence of alignments. Using computer software, he plots the trajectory of the Hammonasset Line, which begins at a burial complex near the tip of Long Island and runs to Devil's Tombstone in Greene County, New York. He shows how the line runs at the same angle that marks the summer solstice sunset from Montauk Point on Long Island, and, when extended, intersects the ancient copper mines of Isle Royal in Upper Michigan. He documents a several-acre area on Overlook Mountain in Woodstock, New York, with a grouping of very large, carefully constructed lithic formations that together create a serpent or snake figure, mirroring the constellation Draco. He demonstrates how this site is related to the Serpent Mount in Ohio and Ankor Wat in Cambodia and reveals how all of the vast, interlocking sites in the Northeast were part of an ancient spiritual landscape based on a sophisticated understanding of the cosmos, as practiced by ancient Native Americans.

While modern historians consider these sites to be colonial era constructions, Kreisberg reveals how they were used to communicate with the spirit world and may be remnants of a long-vanished civilization.
About the Author
---
Glenn Kreisberg is an author, outdoor guide, and radio engineer, who researches archaeoastronomy and landscape archaeology in the Hudson Valley and Catskill Mountains of New York. His books include Mysteries of the Ancient Past, Lost Knowledge of the Ancients, and Spirits in Stone. He served two terms as vice president of the New England Antiquities Research Association (NEARA) and studied archaeoastronomy at SUNY and archaeoacoustics on Malta. He is co-founder of the non-profit Overlook Mountain Center (www.overlookmountain.org) in Woodstock, NY, where he lives with his wife and two teenage children.
Praise For…
---
"The Northeast has been totally and inappropriately marginalized by the mainstream. Kreisberg's work shows the Northeast is right up there with the Southwest, Midwest, Effigy Mounds, Lower Mississippi Valley, and other traditions in terms of archaeoastronomical alignments, sensitivity to landscape features, and cosmological understandings."
— William Romain, author of An Archaeology of the Sacred

"Archaeoastronomy does not have to be incredibly difficult. In fact it can be fun! Guided by Glenn Kreisberg's aptly titled Spirits in Stone, even the untrained reader can share in the excitement of discovery experienced by some of the foremost explorers of Native American and pre-Columbian stone structures in the Northeast. This is a clear, easy-to-follow introduction to a field that was once shrouded in secrecy and clouded by conflicting opinions. Many readers will be shocked by their own proximity to ancient cultures as they turn these pages. I truly recommend this book, especially to young explorers who sense that the old history books are wrong but don't know where to begin. Begin here!"
— Evan T. Pritchard, director of the Center for Algonquin Culture

"Kreisberg's work will contribute greatly to demonstrating the fact that not only did Native Americans construct impressive stone structures throughout the eastern United States but that these sites are sacred and an integral part of their cultural traditions and should be protected!"
— Harry Holstein, professor of archaeology at Jacksonville State University, Alabama

"Reading Glenn Kreisberg's deeply and thoughtfully researched book, I can hear Joseph Campbell intoning the words of Hermes Trismegistus, from the Emerald Tablet, 'As Above, so Below!' If you want to understand the truths of prehistory, look for the writings of the heavens on the earth. Spirits in Stone shows us how very substantial the insubstantial lore of mythology can be, in the very caves and megalithic sites of northeastern America. The ground we walk on is hallowed ground!"
— Stephen Larsen, Ph.D., director of the Stone Mountain Counseling Center
We appreciate your continued support!
If you would like to make a donation to help us through CLICK HERE.