The Lost Dogs: Michael Vick's Dogs and Their Tale of Rescue and Redemption (Paperback)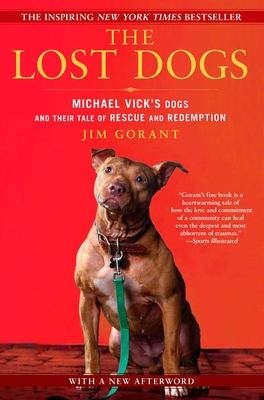 $18.70

Available in our Warehouse: Usually Ships in 3-8 Days
October 2010 Indie Next List
---
"NFL quarterback Michael Vick and his minions set up a major dog-fighting operation, and the details of what the dogs had to endure are all here. It's not a cozy read, but it is gripping and emotionally intense, and the drama is real. Gorant shares not only the story of the dogfights, but also the story of the people who discovered and rescued these animals. Reading about those who risked so much to help animals that much of society shuns was enthralling and inspiring. I loved this book!"
— Jennifer Sorensen, Literary Life Bookstore & More, Inc., Grand Rapids, MI
Description
---
The bestselling story of survival and our powerful bond with man's best friend, in the aftermath of the nation's most notorious animal cruelty case. Featuring a new Afterword with updates on the Vick dogs.
Animal lovers and sports fans were shocked when the story broke about NFL player Michael Vick's brutal dog-fighting operation. But what became of the fifty-one dogs who survived? As acclaimed writer Jim Gorant reveals, their story is the truly newsworthy aspect of this case. The Lost Dogs traces the effort to bring Vick to justice and turns the spotlight on these infamous pit bulls, which were saved from euthanasia by an outpouring of public appeals coupled with a court order that Vick pay nearly a million dollars in "restitution" to the dogs.
As an ASPCA-led team evaluated each one, they found a few hardened fighters, but most were lovable, friendly creatures desperate for compassion. In The Lost Dogs, we meet these amazing animals, many of whom now live in loving homes and work in therapy programs. The Lost Dogs exposes the terrible practice of dog fighting and shows us that even after being subjected to heartbreaking abuse, above all, a dog still wants to be man's best friend.
About the Author
---
Jim Gorant has worked as a magazine editor and writer for twenty years and is currently a senior editor at Sports Illustrated. He is the author of Fanatic: Ten Things All Sports Fans Should Do before They Die, and his work has appeared in magazines such as Men's Journal, GQ, and Outside.
Praise For…
---
"Gorant's fine book is a heartwarming tale of how the love and commitment of a community can heal even the deepest and most abhorrent of traumas." — Sports Illustrated

"The Lost Dogs is a page-turning investigation of dog fighting and an implicit indictment of the sport." — The Daily Beast

"The Lost Dogs has the quality of a page-turner as it chronicles the entire story, in all its upsetting detail, of the dogs' rescue and re-entry into the world." — Los Angeles Times

"A well-researched, moving account" — The New Yorker Book Blog

"The Lost Dogs shows us that goodness can be found in the places where we may least expect it." — The Christian Science Monitor

"Packed with vivid characters and dramatic incidents, The Lost Dogs is a sobering reminder that man's best friend isn't always viewed that way. But this deeply affecting portrayal also reflects that fairy-tale endings are within reach when those involved are infused with spirit, confidence and commitment." — The Seattle Kennel Club

"Gorant has crafted an insightful and uplifting tale about the way that nurture can sometimes triumph over nature, and how the remnants of cruelty can be transformed through the power of hope and love." -Allen St. John, author of The Billion Dollar Game: Behind the Scenes at the Super Bowl 

"Jim Gorant provides a powerful narrative that is, at times, heartbreaking, but also illuminating and inspirational. You will come away from The Lost Dogs warmed by the knowledge that it wasn't only Vick who got a second chance." — George Dohrmann

"The Lost Dogs should be read by dog lovers." — Temple Grandin, author Animals in Translation

"The Lost Dogs is a gripping story of redemption that uncovers the other side of the Michael Vick story." — Ken Foster, author of The Dogs Who Found Me

"Jim Gorant goes beyond the headlines of Michael Vick and the Bad News Kennels to richly tell the rest of the story: how these amazing dogs, in the wake of such brutality, help bring out the best in the human spirit." — Tom Verducci, author of The Yankee Years