Berserk Volume 7 (Paperback)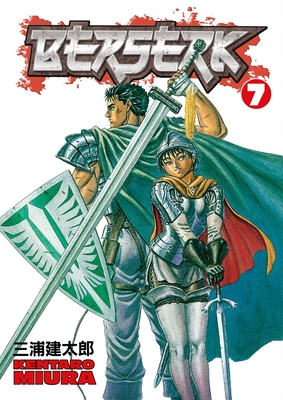 $14.99

Available in our Warehouse: Usually Ships in 3-8 Days
Other Books in Series
This is book number 7 in the Berserk series.
Description
---
Two feudal kingdoms, Midland and Chuder, battle for supremacy in what will become the final clash in a century-long struggle. Spearheading the Midland forces is the Band of the Hawk, a legendary cadre of elite mercenaries led by the charismatic Griffith and with the fearless Guts as its berserker champion. The Hawks' ferocity, courage, and fearsome skills - not to mention Guts' enormous broadsword - are just what Midland needs to turn the bloody tide, but during the fray, Guts and Griffith's most trusted lieutenant, Casca, fall together from a cliff into a raging river. Miraculously, both barely survive, and Guts tends to Casca's wounds as she tells of having her life saved by Griffith, her induction into the Band of the Hawk, and her deep feelings toward Griffith. She even seems to finally be warming up to the grim Guts. But this greeting-card moment won't last long, for Chuder warriors are on the prowl, and the only greetings they carry are on the points of their spears!
About the Author
---
While attending college at Nihon University, in 1988, Kentaro Miura debuted a 48-page manga known as Berserk Prototype, an introduction to the current Berserk fantasy world. It went on to win Miura a prize from the Comi Manga School. In 1989, after receiving a doctorate degree, Kentarou started a project titled King of Wolves based on a script by Buronson, writer of Hokuto no Ken (Fist Of The North Star).

In 1990, the first volume Berserk was released with a relatively limited success. Miura again collaborated with Buronson on manga entitled Japan. Miura's fame grew after Berserk began "The Golden Age" story arc and the huge success of this masterpiece made of him one of the most prominent contemporary manga artists.

In 1997, Miura supervised the production of 25 anime episodes of Berserk that aired in the same year on NTV.

The series has also spawned a whole host of merchandise, both official and fan made, ranging from statues and action figures, to key rings, video games, and a trading card game. In 2002, Kentaro Miura received the second place in the Tezuka Osamu (Astro Boy) Cultural Prize of Excellence for Berserk. The author lives in Tokyo, Japan.