The Manga Guide to Regression Analysis (Paperback)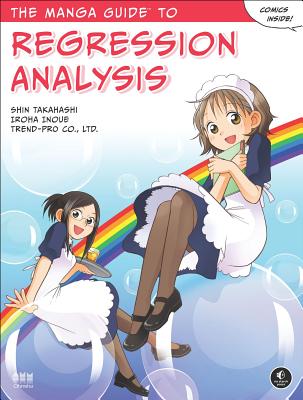 $24.95
This item is not currently available to order.
Description
---
Regression analysis is a core component of the statistics classes required of millions of students. Regression analysis has numerous practical applications, such as predicting sales, finding risk factors for a disease, or anticipating demand for goods at a given price, but the math is challenging, and many struggle with the course. As with all titles in the best-selling Manga Guide series, The Manga Guide to Regression Analysis combines comics with real-world examples to teach readers how to use regression analysis to analyze data and make predictions. The book begins with a review of inverse functions, matrix algebra, and differential calculus, then goes on to explain single, multiple and logistic regression analysis. Readers also learn hypothesis testing, analysis of variance, F and Chi-squared distributions, significance levels, as well as how to use Microsoft Excel for calculations. Co-published with Tokyo-based technical publisher Ohmsha, this is the newest title in the popular Manga Guide series, with over 500,000 copies sold worldwide.
About the Author
---
Shin Takahashi attended Kyushu University, where he graduated with a master's degree in information technology. Having previously worked both as a data analyst and an instructor, he is now an author specializing in technical books. He is the author of "The Manga Guide to Statistics" and "The Manga Guide to Linear Algebra" (No Starch Press).Trend Pro, Inc. is a pioneer of Ad-Manga--advertisement and advertising using Manga--in Japan. The company has produced over 1,700 Ad-Manga for over 700 clients, including many well-known public companies and government agencies. The company has over 100 registered professional Manga artists.