Where the Wild Ladies Are (Paperback)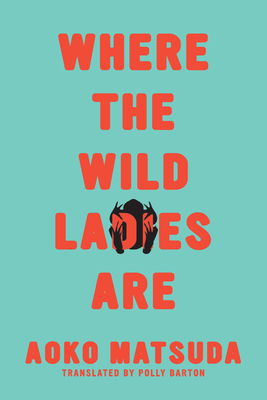 $16.95

Available in our Warehouse: Usually Ships in 3-8 Days
Staff Reviews
---
These ghostly short stories are quite delightful!
— Suzanna
November 2020 Indie Next List
---
"Where the Wild Ladies Are is a beautiful and haunting, modern and feminist reimagining of Japanese folklore and ghost stories. While it wears its inspirations on its sleeve, each of these enchanting and offbeat stories feels entirely original. Ethereal, quirky, and charming — I loved it!"
— Lane Jacobson, Paulina Springs Books, Sisters, OR
Winter 2020 Reading Group Indie Next List
---
"Remixing traditional Japanese folktales of ghosts and yokai through a modern, feminist lens, Where the Wild Ladies Are is an incredible collection of quirky, witty, and insightful stories. Matsuda's keen observational eye and wonderful sense of surreal humor comes through in each and every story."
— Caleb Masters, Bookmarks, Winston-Salem, NC
Description
---
In this "delightfully uncanny" collection of feminist retellings of traditional Japanese folktales (The New York Times Book Review), humans live side by side with spirits who provide a variety of useful services—from truth-telling to babysitting, from protecting castles to fighting crime.

A busybody aunt who disapproves of hair removal; a pair of door-to-door saleswomen hawking portable lanterns; a cheerful lover who visits every night to take a luxurious bath; a silent house-caller who babysits and cleans while a single mother is out working. Where the Wild Ladies Are is populated by these and many other spirited women—who also happen to be ghosts. This is a realm in which jealousy, stubbornness, and other excessive "feminine" passions are not to be feared or suppressed, but rather cultivated; and, chances are, a man named Mr. Tei will notice your talents and recruit you, dead or alive (preferably dead), to join his mysterious company.

With Where the Wild Ladies Are, Aoko Matsuda takes the rich, millenia-old tradition of Japanese folktales—shapeshifting wives and foxes, magical trees and wells—and wholly reinvents them, presenting a world in which humans are consoled, guided, challenged, and transformed by the only sometimes visible forces that surround them.
About the Author
---
Aoko Matsuda is a writer and translator. In 2013, her debut book, Stackable, was nominated for the Yukio Mishima Prize and the Noma Literary New Face Prize. Her novella The Girl Who Is Getting Married was published by Strangers Press in the UK in 2016. In 2019, her short story "The Woman Dies" was shortlisted for a Shirley Jackson Award. She has translated work by Karen Russell, Amelia Gray, and Carmen Maria Machado into Japanese.

Polly Barton is a translator of Japanese literature and nonfiction, currently based in Bristol, UK. Her book-length translations include Friendship for Grown-Ups by Nao-cola Yamazaki, Mikumari by Misumi Kubo and Spring Garden by Tomoka Shibasaki. She has translated short stories for Words Without Borders, The White Review, and Granta. After being awarded the 2019 Fitzcarraldo Editions Essay Prize, she is currently working on a nonfiction book entitled Fifty Sounds.
Praise For…
---
Finalist for the 2021 World Fantasy Awards

"Delightfully uncanny . . . Matsuda's retellings are feminist with a vengeance . . . Deftly translated." —Jane Hu, The New York Times Book Review

"Softly electrifying . . . In [Matsuda's] tales, translated by Polly Barton, spirits coexist with the living, and we don't always know who's dead and who isn't, an authorial choice that subtly emphasizes the humanity of the haunters . . . Matsuda based her vignettes on classic ghost stories, and her characters are ageless, dangerous, and totally untamed. Read this one slowly, to get a tangy whiff of the afterworld as it tangles with daily life." —Jane Yong Kim, The Atlantic

"In her collection of interlinked stories, Aoko Matsuda reimagines traditional Japanese folktales and ghost stories with a feminist twist, positioning women at the center of narratives that are simultaneously life-like and surreal . . . Throughout Where the Wild Ladies Are, Matsuda makes witty and pointed observations about mortality, connection and freedom." —Annabel Gutterman, Time

"This isn't your usual collection of ghost stories. Translated by Polly Barton, Where the Wild Ladies Are is a modern retelling of traditional Japanese folktales. Matsuda provides a feminist twist to the surreal short stories, adding her unique brand of wit, weirdness and wonder." —Tierney Bricker, E!

"These ghosts are not the monstrous, vengeful spirits of the original stories; they are real people with agency and personalities, finally freed from the restraints placed on living women. Funny, beautiful, surreal and relatable, this is a phenomenal book." —Claire Kohda Hazleton, The Guardian

"Want a book of ghost stories that will have you ooh-ing over your cocoa? Go check out the children's section. Want a book of ghost stories that will have you screaming around a Big Gulp–size serving of Adult Beverage? These tales are warped and reinvented from traditional Japanese ghost stories, and they go barrelling through hair salons and domestic kitchens and modern factories. Whether you'll identify more closely with the mortals or the ghosts is an open question." —Vulture

"Reading these re-imagined Japanese folktales is a true, delirious pleasure—the uplifting, unwinding kind that otherwise feels in short supply these days. In Where the Wild Ladies Are, Aoko Matsuda has taken traditional stories and infused them with an unhinged feminist energy that feels subversive, sly, and nothing short of revelatory. It's a reinvention that offers up a whole new way to look at all our foundational myths, and allows us to conceive of a present and future that prioritizes openness and absurdity instead of restricting paradigms and dogma." —Kristin Iversen, Refinery29

"Matsuda's eerie and bewitching short story collection updates traditional Japanese ghost stories with a feminist bent . . . The stories are coy, ambiguous, and just the right amount of creepy." —Arianna Rebolini, BuzzFeed

"Aoko Matsuda's short story collection is full of feminist retellings of Japanese folktales. Which: hell yes. By taking ancient stories and setting them in modern-day Japan, Matsuda insightfully uses the ghost tales to reveal greater truths about our society . . . Overall, these stories are engaging and surreal and smart." —Emily Burack, One of Hey Alma's Favorite Books for Fall

"Who are the spirits living in cities, and why are they there? Aoko Matsuda's Where the Wild Ladies Are—translated from Japanese by Polly Barton—dares to answer this question, introducing us to the female sprites and yōkai (traditional Japanese monsters) who have clambered out of Japan's ancient forests and wells and entered into modern-day cramped high-rise flats, corporate headquarters, beauty parlors, and tourist complexes . . . These tales demonstrate a wildness in all of us that connects body to land, human to animal. The convergences of the spiritual and corporeal, the traditional and modern, together form an anthology that is rare in feminist Japanese literature." ––Ysabelle Cheung, Sierra

"The world is not an easy place, and being alive is difficult. Being dead, though . . . is also difficult . . . Where the Wild Ladies Are by Aoko Matsuda wants you to know that existence for all beings—including ghosts, humans, kitsune, and even an oddly-shaped tree—is full of struggle, and that female beings face particular challenges . . . This gently delightful collection of stories provides new twists on old stories and maintains a much-needed tone of optimism and resilience throughout." —Christina Ladd, The Nerd Daily

"In this delightful, sharp, poignant collection of linked short stories, Matsuda writes feminist retellings of Japanese folk tales populated by ghosts, all of them women, who are recruited into a mysterious company run by Mr. Tei. These stories are such a joy to read, with a soothing and refreshing quality that centers and celebrates 'feminine' energy, which is as expansive here as it is in real life." —Sarah Neilson, Literary Hub

"Preface any storytelling format with 'traditional,' and audiences will have no expectations of feminist agency. Thankfully, prizewinning Japanese writer Matsuda imagines reclamation and brilliantly transforms fairy tales and folk legends into empowering exposés, adventures, manifestos . . . Adroitly translated by UK-based Polly Barton . . . Matsuda enthralls with both insight and bite." —Terry Hong, Booklist (starred review)