Nose Dive: A Field Guide to the World's Smells (Hardcover)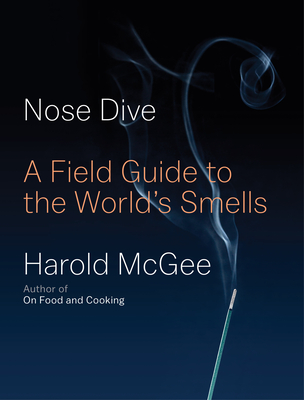 $35.00
This item is not currently available to order.
Description
---
The ultimate guide to the smells of the universe – the ambrosial to the malodorous, and everything in between – from the author of the acclaimed culinary guides On Food and Cooking and Keys to Good Cooking

From Harold McGee, James Beard Award-winning author and leading expert on the science of food and cooking, comes an extensive exploration of the long-overlooked world of smell. In Nose Dive, McGee takes us on a sensory adventure, from the sulfurous nascent earth more than four billion years ago, to the fruit-filled Tian Shan mountain range north of the Himalayas, to the keyboard of your laptop, where trace notes of phenol and formaldehyde escape between the keys. We'll sniff the ordinary (wet pavement and cut grass) and the extraordinary (ambergris and truffles), the delightful (roses and vanilla) and the challenging (swamplands and durians). We'll smell one another. We'll smell ourselves.

Through it all, McGee familiarizes us with the actual bits of matter that we breathe in—the molecules that trigger our perceptions, that prompt the citrusy smells of coriander and beer and the medicinal smells of daffodils and sea urchins. And like everything in the physical world, molecules have histories. Many of the molecules that we smell every day existed long before any creature was around to smell them—before there was even a planet for those creatures to live on. Beginning with the origins of those molecules in interstellar space, McGee moves onward through the smells of our planet, the air and the oceans, the forest and the meadows and the city, all the way to the smells of incense, perfume, wine, and food.

Here is a story of the world, of every smell under our collective nose. A work of astounding scholarship and originality, Nose Dive distills the science behind the smells and translates it, as only McGee can, into an accessible and entertaining guide. Incorporating the latest insights of biology and chemistry, and interweaving them with personal observations, he reveals how our sense of smell has the power to expose invisible, intangible details of our material world and trigger in us feelings that are the very essence of being alive.
About the Author
---
Harold McGee writes about the science of food and cooking. He is the author of the award-winning classic On Food and Cooking: The Science and Lore of the Kitchen and Keys to Good Cooking: A Guide to Making the Best of Foods and Recipes, and a former columnist for The New York Times. He has been named food writer of the year by Bon Appétit magazine and to the Time 100, an annual list of the world's most influential people. Since 2010, he has been a visiting lecturer for Harvard University's course "Science & Cooking: From Haute Cuisine to Soft Matter Science." McGee lives in San Francisco.
Praise For…
---
"A deeply researched guide to the world's smells, down to their volatile molecules."—Tejal Rao, The New York Times

"A book for the ages, which examines but also transcends food and drink through smell."—Andre Simon Fund Food and Drink Book Awards, Special Commendation 

"A tour-de-force . . . a superbly written odyssey around an underrated sense." —Financial Times
 
"The reference book that will make everything you eat seem more interesting. There is fascination and delight on every page." —The Sunday Times (UK)
 
"Fabulous . . . brought me a great deal of pleasure." —The Telegraph (UK)

"Every page of 'Nose Dive: A Field Guide to the World's Smells' is crammed with the olfactory equivalent of onomatopoeia…Fans of Mr. McGee's culinary writing won't be disappointed—there are several hundred pages devoted to scrumptious foods, both raw and cooked. He articulates the secrets of truffles and peaty whisky. He seems especially obsessed with the echoes and slant rhymes of food—why pineapples can smell like Parmesan, oysters like cucumbers, sherry like soy sauce, even "the prized 'kerosene' note of well-aged Rieslings."… Like an analytical chemist, he catalogs the exact molecules that each food or substance emits, and how they combine like musical notes to produce a scent chord. He offers some general rules for correlating molecular structure with aromatic sensation—that sulfur is generally pungent, and large molecules are more pleasant than small ones. It's fascinating stuff… [McGee's] enthusiasm is contagious."—Sam Kean, Wall Street Journal

"An exhaustive compendium on odors and their chemical makeup… Perfect for foodies, those interested in science, and the innately curious. Engagingly written, this would be a wonderful ready reference to have on hand" —Library Journal

"The ultimate obsessive's guide to all things olfactory. If you've ever been curious as to why cat urine is so potent, why feet stink, or, more pleasantly, why flowers smell so lovely, then this is the tome for you… McGee dives deep into the science and taxonomy of smells, and he augments the text with plentiful charts that provide visual demonstration of his discussions… McGee has a genial way with words that makes the hard science accessible to motivated general readers…This is a unique project executed meticulously from beginning to end…Equips readers with all the science necessary for a life of heightened smell perception." —Kirkus

"In his detailed survey of scents, food writer and cooking scientist McGee elegantly explains olfaction… His exploration of our smelly world includes the odors of flora and fauna, soil and smoke, food and fragrances, but also the unexpected: primordial earth, rain, and the whiff of old books. Pungent and even rancid smells—skunk spray, ammonia, manure—are as respected as such delectable aromas as lemon, coffee, and rosemary. Odiferous facts abound… A delightful outing across the olfactory world." —Booklist