The New Jim Crow: Mass Incarceration in the Age of Colorblindness (Paperback)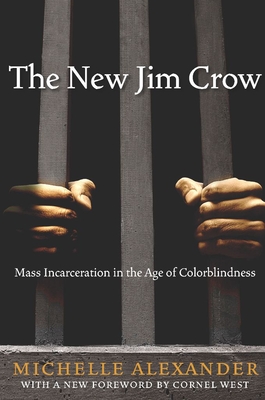 Email us for price & availability: info@oblongbooks.com
Special Order - Subject to Availability
Staff Reviews
---
Utterly deserved in its reputation as required reading. Alexander presents a statistically-backed, clearly and starkly outlined examination of the police and prison system's use as a tool to maintain racial inequality and to enact violence on Black and brown Americans. I thought of myself as relatively aware of this subject, and yet this book shocked me over and over. You cannot fully understand how America functions if you have not read this book.
— Anna
March 2010 Indie Next List
---
"In The New Jim Crow, Michelle Alexander tirelessly researches both the legal history of America's Jim Crow past and the current legal policies that contribute to the mass incarceration of black people. The text adds significantly to scholarship that contextualizes rates of incarceration among blacks and critiques of social and economic inequality."
— Bruce Smith, Colorado State University Bookstore, Fort Collins, CO
Description
---
Once in a great while a book comes along that changes the way we see the world and helps to fuel a nationwide social movement. The New Jim Crow is such a book. Praised by Harvard Law professor Lani Guinier as brave and bold, this book directly challenges the notion that the election of Barack Obama signals a new era of colorblindness. With dazzling candor, legal scholar Michelle Alexander argues that we have not ended racial caste in America; we have merely redesigned it. By targeting black men through the War on Drugs and decimating communities of color, the U.S. criminal justice system functions as a contemporary system of racial control--relegating millions to a permanent second-class status--even as it formally adheres to the principle of colorblindness. In the words of Benjamin Todd Jealous, president and CEO of the NAACP, this book is a call to action. Called stunning by Pulitzer Prize-winning historian David Levering Lewis, invaluable by the Daily Kos, explosive by Kirkus, and profoundly necessary by the Miami Herald, this updated and revised paperback edition of The New Jim Crow, now with a foreword by Cornel West, is a must-read for all people of conscience.
About the Author
---
Michelle Alexander is an associate professor of law at Ohio State University and holds a joint appointment at the Kirwan Institute for the Study of Race and Ethnicity. Formerly the director of the ACLU's Racial Justice Project in Northern California, Alexander served as a law clerk for U.S. Supreme Court Justice Harry A. Blackmun. Cornel West is the Class of 1943 University Professor at Princeton University.
Praise For…
---
Devastating. . . . Alexander does a fine job of truth-telling, pointing a finger where it rightly should be pointed: at all of us, liberal and conservative, white and black.—ForbesAlexander is absolutely right to fight for what she describes as a much-needed conversation" about the wide-ranging social costs and divisive racial impact of ourcriminal-justice policies.—NewsweekInvaluable . . . a timely and stunning guide to the labyrinth of propaganda, discrimination, and racist policies masquerading under other names that comprises what we call justice in America.—Daily KosMany critics have cast doubt on the proclamations of racism's erasure in the Obama era, but few have presented a case as powerful as Alexander's.—In These TimesCarefully researched, deeply engaging, and thoroughly readable.—Publishers Weekly[Written] with rare clarity, depth, and candor.—CounterpunchA call to action for everyone concerned with racial justice and an important tool for anyone concerned with understanding and dismantling this oppressive system.—SojournersUndoubtedly the most important book published in this century about the U.S.—Birmingham News
Coverage from NPR
We appreciate your continued support!
If you would like to make a donation to help us through CLICK HERE.