Relish: My Life in the Kitchen (Paperback)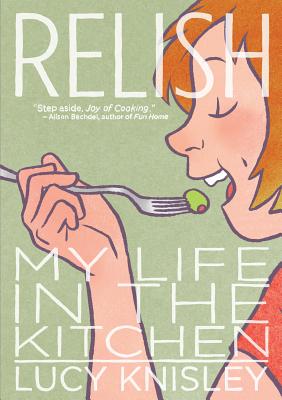 Description
---
A NEW YORK TIMES BESTSELLER
Lucy Knisley loves food. The daughter of a chef and a gourmet, this talented young cartoonist comes by her obsession honestly. In her forthright, thoughtful, and funny memoir, Lucy traces key episodes in her life thus far, framed by what she was eating at the time and lessons learned about food, cooking, and life. Each chapter is bookended with an illustrated recipe--many of them treasured family dishes, and a few of them Lucy's original inventions.
A welcome read for anyone who ever felt more passion for a sandwich than is strictly speaking proper, Relish is a graphic novel for our time: it invites the reader to celebrate food as a connection to our bodies and a connection to the earth, rather than an enemy, a compulsion, or a consumer product.
A Publishers Weekly Best Children's Book of 2013
An NPR Best Book of 2013
About the Author
---
Lucy Knisley was born in New York City, raised in Rhinebeck, NY, and educated in Chicago. She has come home to roost in a tiny apartment in Manhattan, where she can be closer to her mom's cooking. Her comics about life, food, travel and her adventures have gained her a devoted audience on the Internet, and she is now doing food comics for the magazine Saveur, who just sent her to Africa. Lucy's first book, French Milk, is a travelogue about a trip to Paris. Relish is her most recent work.
Praise For…
---
"Lucy Knisley's delightful drawings don't just tell great stories, they're a crystal-clear how-to guide to everything worth doing in the kitchen.  Step aside, 
Joy of Cooking
."
—Alison Bechdel, author of Fun Home 
"Lucy Knisley is bringing comics into the kitchen."
--USA Today
"Knisley's candid storytelling, deadpan humor, and clear-line storytelling make the book entirely accessible. . . . like a giant bowl of spaghetti carbonara or a tower of huevos rancheros (recipes included) this is a book that teenagers and parents will savor in equal measure."
--PW Starred Review
"I plan on buying this book for every foodie I know."
--Wired
Just about everything in this rambling memoir is handled with good cheer, which hints at the positive energy and personal fulfillment Knisley has wrought from her young life in food."
-- Booklist
"A grand appreciation for the sheer joy of sharing a meal (and recipe)."
--Bookslut
"You're going to savor every page of this yummy graphic memoir."
--Reading Rants
"Readers who are already food lovers are the obvious audience here, but those even those who aren't will have plenty to ruminate on through these coming-of-age shorts." -- BCCB