Life List: A Woman's Quest for the World's Most Amazing Birds (Paperback)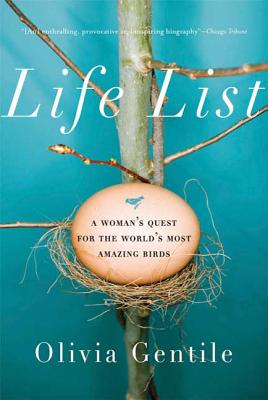 Description
---
After her four kids were nearly grown and she was about to turn 50, Phoebe Snetsinger was told she had less than a year to live. Snetsinger, a St. Louis housewife and avid backyard birder, decided to spend that year traveling the world in search of birds. As it turned out, her doctors were wrong, but Phoebe's passion had been ignited and she spent the next eighteen years crisscrossing the globe recklessly staking out her quarry. En route she contracted malaria in Zambia, nearly fell to her death in Zaire, and was kidnapped and gang raped on the outskirts of Port Moresby. Yet none of this curbed her enthusiasm. By the time she died in a bus accident while birding in Madagascar in 1999, Phoebe was world renowned and had seen more species--8,500 of the roughly 10,000--than anyone in history.
A fascinating portrait of a hobbiest whose obsession contributed to both her success and her demise, "Life List" brings Phoebe Snetsinger and the wild world of amatuer ornithology to vivid life.
About the Author
---
Olivia Gentile earned a BA from Harvard College and an MFA from Columbia University. She has worked as a newspaper reporter for which she won the Vermont Press Association's Rookie Reporter of the Year Award and the Connecticut Society of Professional Journalist's Magazine Writing Award.
Praise For…
---
"A phenomenal tale—beautifully told—of escape, risk, and obsession. Judicious [and] insightful."—Patricia O'Toole, author of When Trumpets Call: Theodore Roosevelt After the White House
"Except for one thing, this book would rate as a great adventure novel and fictional psychological portrait, about a woman's obsession with bird-watching, its effect on her relationships with her husband and her four children, and the horrifying mishaps that she survived on each continent--until the last mishap. But the book isn't that great novel, because instead it's a great true story: the biography of Phoebe Snetsinger, who set the world record for bird species seen, after growing up in an era when American women weren't supposed to be competitive or have careers. Whether or not you pretend that it's a novel, you'll enjoy this powerful, moving story."—Jared Diamond, Pulitzer-Prize-winning author of Guns, Germs, and Steel and Collapse
"An intriguing portrait of one of the best-known birders of the modern age. I couldn't put it down!"—Peter Kaestner, America's top (living) bird lister
"Life List is an engaging saga of how a brave and complex woman defied cancer and gender in an epic quest to become the first person to see 8,000 bird species."—Frank Gill, author Ornithology
"I am not a woman. I am not a birdwatcher, and don't plan to become one. But I nevertheless found Life List to be a charming, heartening, fascinating, and altogether inspiring guide to living life (and facing death) with one's full attention."—Kurt Andersen, author of Heyday
"Life List will easily attract bird-people and the rest of us with its distinctive call.  Olivia Gentile has written a graceful and very appealing book."—Meg Wolitzer, author of The Ten-Year Nap and Sleepwalking
"Gentile's tale of a desperate but determined housewife with a passion for birds and adventure is engrossing, sharp, and affecting--a touching portrait and great read."—Susan Orlean, author The Bullfighter Checks Her Makeup and The Orchid Thief
"Life List is an uncommon sort of book--a sincere, sometimes sombre flight through the remarkable, storied life of one of birding's most tenacious and most erudite adherents. Olivia Gentile approaches her subject with equal parts sympathy and sobriety, capturing both the exhilaration and the costs of pursuing one's passion to the fullest."—Edward S. Brinkley, editor of North American Birds Journal
"Olivia Gentile's Life List is the remarkable story of Phoebe Snetsinger, a woman trapped by her life as homemaker, who found liberation in bird watching. Diagnosed with terminal cancer, she began traveling the world, not seeking a cure, but in search of rare birds—becoming a kind of ornithologist's heroine, and living another eighteen years. Gentile's journalistic temperament lures you in, whether you like birds or not (frankly I kind of hate them). The result is a beautifully revealing, sensitive exploration of Snetsinger's singular obsession. The story slips under your skin—you can't help but keep reading."—A.M. Homes
"Phoebe Snetsinger lived a life of high adventure and exotic travel familiar to 19th century explorers - except that she was a 1960s Midwestern housewife who was supposed to be dying of cancer. How she became the world's most driven, globe-trotting birder, what she gained and what she sacrificed to see three-quarters of the Earth's birds, makes Life List an unusually compelling story."—Scott Weidensaul, author of Of a Feather
We appreciate your continued support!
If you would like to make a donation to help us through CLICK HERE.