Strong's Exhaustive Concordance of the Bible (Hardcover)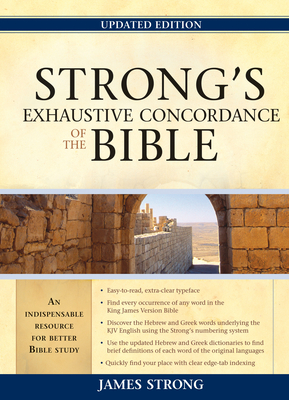 $29.95

Available in our Warehouse: Usually Ships in 3-8 Days
Description
---
Quickly see every occurrence of every word in the King James Version with Strong's trusted numbering system.
Enjoy Strong's expanded Greek and Hebrew dictionaries, which cover the root meaning of over 14,000 Hebrew and Greek words. Alphabetized and reorganized, it an indispensable tool for pastors, lay leaders, and Bible readers. It includes 5 large, labeled maps, topical indexes, appendixes, Bible study aids, and more Enjoy the new features that make it even more useful:
Corrected, updated, and expanded using the latest computer technology
Extra-clear typesetting and page design make this edition readable and easy to navigate
Updated and improved Hebrew and Greek dictionaries tie each word to its root
Includes maps and additional Bible study aids
Clear edge-tab indexing for handier use
Find Out Key Information on Every Word in the Bible
Where can I find this word? How many times is it used? What is its meaning?
Find the answers to these questions and more with Strong's Concordance. This concordance doesn't cover some keywords--it cover them all This updated version includes new features as well as keeps what made the original a favorite:
Allows the reader to easily find all biblical occurrences of a word in the King James Version
Points the reader to the root meaning of Hebrew and Greek words
Uses the Strong's numbering system which is used in many of the new study tools of today
Enjoy Having These Updated and Improved Features at Your Fingertips
MORE READABLE-- Extra-clear typesetting and page design make this edition readable and easy to navigate.
MORE ACCURATE-- Find every occurrence of any word in the King James Version Bible. (This updated edition has been corrected and improved using the latest technology.)
MORE CONVENIENT-- Clear-edge tab indexing.
MORE USEFUL-- Includes updated Hebrew and Greek dictionaries that show the root and meaning of thousands of words in their original language (over 14,000 entries). It also includes 5 full-page maps, appendixes, topical lists, and more
AND UNIVERSAL-- Continues to use the Strong's numbering system which is cross-referenced in thousands of books and study tools.
Whether you want to find a specific verse, probe the meaning of a keyword, or hone your understanding of specific themes--this concordance is your go-to resource
Discover Fascinating Insights as You Study Keywords:
Digging into the meaning of keywords is a great way to gain incredible insight and grow your understanding of God's Word. Here's just a few fascinating facts you will learn:
"Fear" ("fear of the Lord" in Prov. 1:7) from the Hebrew word "yare" means "reverence" (as compared to the Greek "phobos" which means "alarm, fright.")
"Rapha" the Hebrew word often translated as "cure, heal, cause to heal, physician, repair, thoroughly, make whole" means to "mend" or "cure."
"Salvation" ("soteria" in Greek) means physical or moral rescue/safety, and is translated as "deliver," "health," "save," and "saving."