The Mishnah: Translated from the Hebrew with Introduction and Brief Explanatory Notes (Paperback)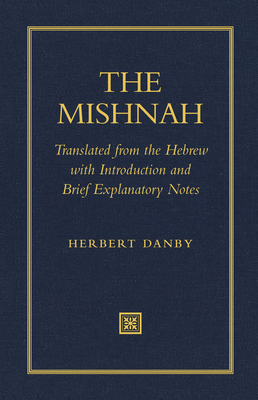 $79.95

Available in our Warehouse: Usually Ships in 3-8 Days
Description
---
The Mishnah is the written form of the Jewish Oral Law, as preserved by the Rabbis of the first few centuries after the destruction of the Jerusalem Temple in the first century. It is the sum of four centuries of Jewish religious activity in Palestine.

Much of its contents reflect the Jewish religious tradition current at the time of Christ and the early Christian Church. Up until the printing of this volume, the Mishnah was not available for the layman to study as a whole. It is of interest to persons studying early Judaism and the relationship of the oral traditions to Christ and the New Testament writings.

The Mishnah's historical value is comparable in its importance to the Apocrypha, Pseudepigrapha, and the Works of Josephus. It is as important to the development of Judaism as the New Testament is to the development of Christianity. This edition by Danby is the classic English translation of the Mishnah (originally written in Aramaic), and has been the standard for over 50 years for scholars and other interested readers.
About the Author
---
Herbert Danby (1889-1953) was an Anglican priest and a professor at Oxford University who spent a number of years in Palestine in the first half of the twentieth century. His interest in, and translation into English of, ancient Jewish writings helped to change the attitudes of scholars away from anti-Semitism in the mid-twentieth century.