Green Decorating & Remodeling: Design Ideas and Sources for a Beautiful Eco-Friendly Home (Knack: Make It Easy (Home)) (Paperback)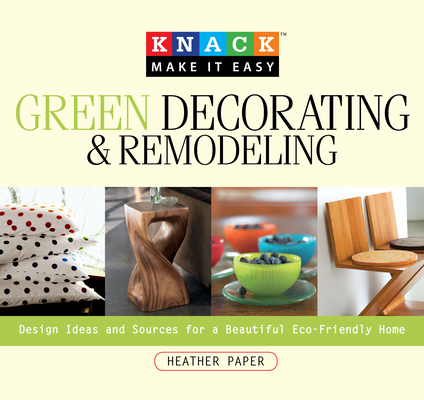 $21.95
This item is not currently available to order.
Description
---
It's beautiful going green. The home furnishings industry is undergoing a renaissance of amazing new products that are less toxic for people, are made with renewable resources, and avoid processes that can harm the environment. The surprise is how sumptuous these new green choices are. With more than 475 full-color photos, Knack Green Decorating and Remodeling showcases all the beautiful, environmentally friendly options you'd love to have in your home.Whether you're remodeling, redecorating, making a single product decision, or looking for that perfect finishing touch, here are new ideas that will delight you from a decorating expert with phenomenal taste. From first steps to gradual changes to guiding principles, this book shows how easy it is to make your home a little greener, starting today Features covered include ideas for: Furniture and fabrics Wall and window coverings Floors and countertops Bed and bath Lighting Babies and children Pets Outdoor living Finishing touches An extensive resource guide with more than 500 Web sources is provided as well.
About the Author
---
Heather Paper is a writer, consultant, and decorating-industry expert who has worked in the home decorating field for more than twenty years. She has been the editor of numerous Meredith decorating magazines and special issues and contributes to Seattle Homes, Colorado Homes, and Atlanta Homes magazines. In addition to her writing, which is aimed at consumers, she is a regular presenter to a professional audience at home furnishings trade shows (High Point Market Week, Tabletop, Surfaces shows). Her Decorating Idea Book (Taunton 2005) has sold 14,300 copies (Bookscan) and her new book, Decorating Ideas that Work, is due out in November 2007. She lives in Atlanta.