100 Things Blues Fans Should Know & Do Before They Die (100 Things...Fans Should Know) (Paperback)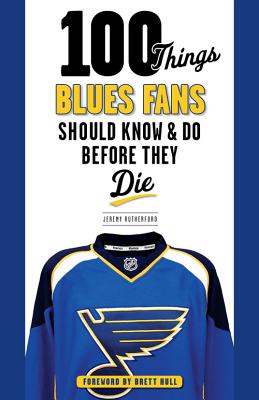 $14.95
This item is not currently available to order.
Description
---
Covering the entire 45-year history of the Blues, author Jeremy Rutherford has collected every essential piece of Blues knowledge and trivia, as well as must-do activities, and ranks them from 1 to 100. Most Blues fans have taken in a game or two at the Scottrade Center, have seen highlights of a young Brett Hull, and are aware that the team is named after the famous W. C. Handy song "Saint Louis Blues". But only real fans know who scored the first goal in franchise history, can name all of the Blues players whose numbers are retired, or can tell you the best place to grab a bite in St. Louis before the game. 100 Things Blues Fans Should Know & Do Before They Die is the definitive resource guide for both seasoned and new fans of the St. Louis Blues.
About the Author
---
Jeremy Rutherford has covered the Blues for the St. Louis Post-Dispatch since 2005. His popular Morning Skate Blog is fans' go-to source for the latest news on St. Louis' NHL team. Rutherford previously hosted a radio show on KFSN 590 AM with former Blues tough guy Reed Lowe. He lives in Imperial, Missouri. Brett Hull played for six NHL teams from 1986 to 2005 and is the former executive vice president of the Dallas Stars. He was inducted into the Hockey Hall of Fame in 2009 and the St. Louis Blues retired his No. 16 jersey. He lives in Dallas, Texas.