Canine Cuisine: 101 Natural Dog Food & Treat Recipes to Make Your Dog Healthy and Happy (Back-To-Basics) (Paperback)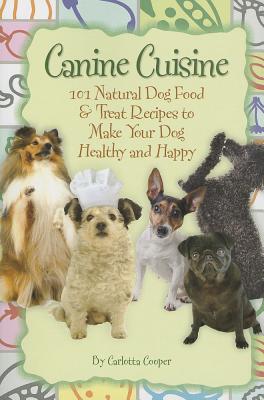 $19.95

Available in our Warehouse: Usually Ships in 3-8 Days
Description
---
With so many dog food brands on the market, finding and paying for a quality brand you can trust is a challenge. Your dog might have food allergies, food sensitivities, or a medical condition for which he needs a specialized diet. Whatever your reasons for starting to prepare meals for your canine companion, this book brings you everything you will need to know in order to cook and prepare healthy, delicious homecooked meals for your best friend.
This book walks you through the seemingly complex process of formulating and making your own dog food so you can ensure your dog remains as healthy as possible while enjoying some of the best food available for any pet canine. You will learn everything you need to know about dog nutrition, including what dogs naturally need to remain healthy, keep their coats shiny, their bodies at the right weight, and their energy levels peaked. You will learn how basic dog nutrition can be applied to essentially any recipe to create a myriad of enjoyable dishes that will save you money and keep your dog healthy. From the right meats to the right amino acids, vitamins, and minerals, recipes in this book provide a complete set of the right nutrients your dog needs. You will subsequently learn how to create and provide various stews and casseroles, gravies and sauces, savory snacks, treats, holiday and party food, and ethnic specialties just for your dog. In addition, you will learn how to see to any special dietary needs you dog may have to ensure conditions such as allergies, blood sugar concerns, and stomach issues are safely kept under control. For the health of your dog and the integrity of his food, this book provides a complete, detailed examination of how to approach his diet from ingredients to dish. Atlantic Publishing is a small, independent publishing company based in Ocala, Florida. Founded over twenty years ago in the company president's garage, Atlantic Publishing has grown to become a renowned resource for non-fiction books. Today, over 450 titles are in print covering subjects such as small business, healthy living, management, finance, careers, and real estate. Atlantic Publishing prides itself on producing award winning, high-quality manuals that give readers up-to-date, pertinent information, real-world examples, and case studies with expert advice. Every book has resources, contact information, and web sites of the products or companies discussed.
About the Author
---
Carlotta Cooper was born and raised in Tennessee. Her grandparents were farmers, and she grew up with horses, dogs, and other animals. Her family raised chickens, ducks, geese, other poultry, rabbits, and pigs. She attended the University of the South in Sewanee where she graduated with a B.A. in English as class Salutatorian. She attended graduate school at the University of Virginia, studied English literature, and did graduate work in writing and rhetoric at the University of Tennessee at Chattanooga. Professionally, Carlotta is a freelance writer, specializing in writing about animals. She has been breeding and showing dogs for over 20 years and is a contributing editor for the dog show magazine Dog News. She lives in the middle of farm country in Tennessee now and writes about veterinary issues, animal reproduction, genetics, and raising and caring for animals.