Among Wolves: Gordon Haber's Insights into Alaska's Most Misunderstood Animal (Paperback)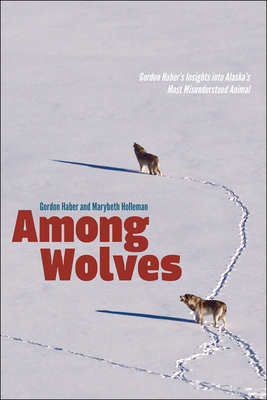 $36.25

Available in our Warehouse: Usually Ships in 3-8 Days
Description
---
Alaska's wolves lost their fiercest advocate, Gordon Haber, when his research plane crashed in Denali National Park in 2009. Passionate, tenacious, and occasionally brash, Haber, a former hockey player and park ranger, devoted his life to Denali's wolves.

He weathered brutal temperatures in the wild to document the wolves and provided exceptional insights into wolf behavior. Haber's writings and photographs reveal an astonishing degree of cooperation between wolf family members as they hunt, raise pups, and play, social behaviors and traditions previously unknown. With the wolves at risk of being destroyed by hunting and trapping, his studies advocated for a balanced approach to wolf management. His fieldwork registered as one of the longest studies in wildlife science and had a lasting impact on wolf policies.

Haber's field notes, his extensive journals, and stories from friends all come together in Among Wolves to reveal much about both the wolves he studied and the researcher himself. Wolves continue to fascinate and polarize people, and Haber's work continues to resonate.
About the Author
---
Marybeth Holleman is an award-winning essayist who teaches creative writing and women's studies at the University of Alaska, Anchorage. Anna Coray is an award-winning poet and the author of Bone Strings.

Gordon Haber (1942–2009) studied wolves in Denali National Park and interior Alaska for forty-three years.
Praise For…
---
"This book, compiling Gordon Haber's lifetime dedication to studying and protecting wolves, is an immensely important addition to the  literature. He knew each one as an individual, observed the disruption of social bonds every time a pack member was killed. Among Wolves will enable those who were not fortunate enough to meet him to be inspired by his amazing stories, as I was. And it will help all those involved with wolf conservation long after his tragic death. Gordon was a hero, and I am sure the wolves howled when his plane crashed—animals know."  
— Jane Goodall, founder, the Jane Goodall Institute

"Culled from [Haber's] published articles, research notes, and tweets, combined with the reminiscences of friends and colleagues, this volume, created by Alaskan writer Holleman, is the final word on the groundbreaking research Haber conducted on the Denali wolf packs for four decades."
— Booklist

"The book peels back the layers of misunderstanding of the wolf, revealing a fascinating, complex, socially evolved animal that deserves our admiration and protection, not our fear and hatred."
— Huffington Post

"This extraordinary collaboration between Alaska writer Marybeth Holleman and the late world-renowned wolf biologist Dr. Gordon Haber is informative, gripping, passionate, and revealing. It takes readers deep into the culture of Denali National Park's wolf family groups through Haber's 40-plus-years of exacting observations, and then deep into the mire of Alaska wolf politics."
— Interdisciplinary Studies in Literature and Environment

"Holleman deserves credit for creating comprehensive introductory material and a well-organized book (gleaned from Haber's journals and notes). Readers will share Haber's intimate experiences with the Toklat wolves of Denali National Park and Preserve and those of the Yukon-Charley region of east-central Alaska. Reading Among Wolves gives us an appreciation not only for Haber's subject but also for the man himself."
— Western American Literature

"Among Wolves is a rich addition to Canis lupus literature. It includes a great deal of new and intimate information on wolves. At the same time, this very readable book brings transparency to the figure of Gordon Haber, revealing to us, mostly through his own words, the intelligence and compassion of this remarkable man."
— EcoLit Books