Waco: A Survivor's Story (Paperback)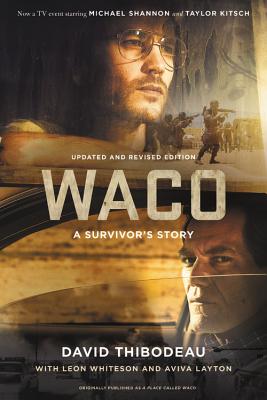 $16.99

Available in our Warehouse: Usually Ships in 3-8 Days
Description
---
The basis of the celebrated Paramount Network miniseries starring Michael Shannon and Taylor Kitsch -- Waco is the critically-acclaimed, first person account of the siege by Branch Davidian survivor, David Thibodeau.

Twenty-five years ago, the FBI staged a deadly raid on the Branch Davidian compound in Waco. Texas. David Thibodeau survived to tell the story.

When he first met the man who called himself David Koresh, David Thibodeau was a drummer in a local a rock band. Though he had never been religious in the slightest, Thibodeau gradually became a follower and moved to the Branch Davidian compound in Waco. He remained there until April 19, 1993, when the compound was stormed and burned to the ground after a 51-day standoff with government authorities.

In this compelling account -- now with an updated epilogue that revisits remaining survivors--Thibodeau explores why so many people came to believe that Koresh was divinely inspired. We meet the men, women, and children of Mt. Carmel. We get inside the day-to-day life of the community. We also understand Thibodeau's brutally honest assessment of the United States government's actions. The result is a memoir that reads like a thriller, with each page taking us closer to the eventual inferno.
About the Author
---
David Thibodeau was born and raised in Maine. He is one of only four Branch Davidians who survived the Waco, Texas massacre who was not sentenced to prison. Over the twenty-five years since, David has lived in Los Angeles, Austin, and currently lives in Bangor, Maine, where he continues his life as a drummer and entrepreneur.

Coauthor Leon Whiteson was a Zimbabwean architect-turned-critic and novelist. He died in 2013 at age 82. Whiteson is survived by his wife -- author Aviva Layton -- who has written the updated epilogue with David Thibodeau for this new edition.

Aviva Layton earned a BA from Sydney University, an MA from University of Montreal, and a PhD from York University, Toronto. She is the author of a novel, a biography, and several award-winning children's books, and is now a full-time literary editor.
Praise For…
---
"An extraordinary account of one of the most shameful episodes in recent American history. I wish that everyone in the country could read this book."
—Howard Zinn

"This book gives a rare glimpse of life at Mount Carmel and an account of how that attack contrasts with the 'official' government version. With the renewed interest in this siege, this book is recommended for public libraries."
—School Library Journal

"This narrative defies many of our media-mediated preconceptions of Koresh's followers."
—Booklist

"Thibodeau, one of only four Branch Davidians to live through the Waco disaster and not be sentenced to jail, has produced a surprisingly balanced and honest account of his time as a Branch Davidian. Neither sensationalist nor defensive, this will make satisfying reading for anyone interested in the April 1993 tragedy."
—Kirkus Review

"A disquieting portrait of a religious community and its enigmatic leader."
—Kirkus Reviews

"Honest... [about] whether the excessive force used by our government against American citizens was really necessary."—Lincoln Star Journal